You are on a prescription ibuprofen cure and you miss your favorite CBD products? You want to enter the fantastic world of CBD and CBD products for whatever reason but you are worried about the interaction between CBD and other substances and, in particular, ibuprofen? Are you asking yourself every day and every night "how long after taking CBD can I take ibuprofen" to avoid some risks? Don't worry, we are here for you. In this article you will discover all you need to know about CBD and ibuprofen, their way to interact and how to be safe when taking both of them. Let's find out.
What is ibuprofen
Ibuprofen is a non-steroidal anti-inflammatory drug, and it was synthesized for the first time in 1961. It's a key ingredient in a lot of painkillers and other medicines, and it's more common that you might think. It can relieve inflammation, pain and it's an anti-fever. It's really useful! But how does it work? Ibuprofen mitigates pain by blocking a hormone known as prostaglandin and it's synthesized in the liver.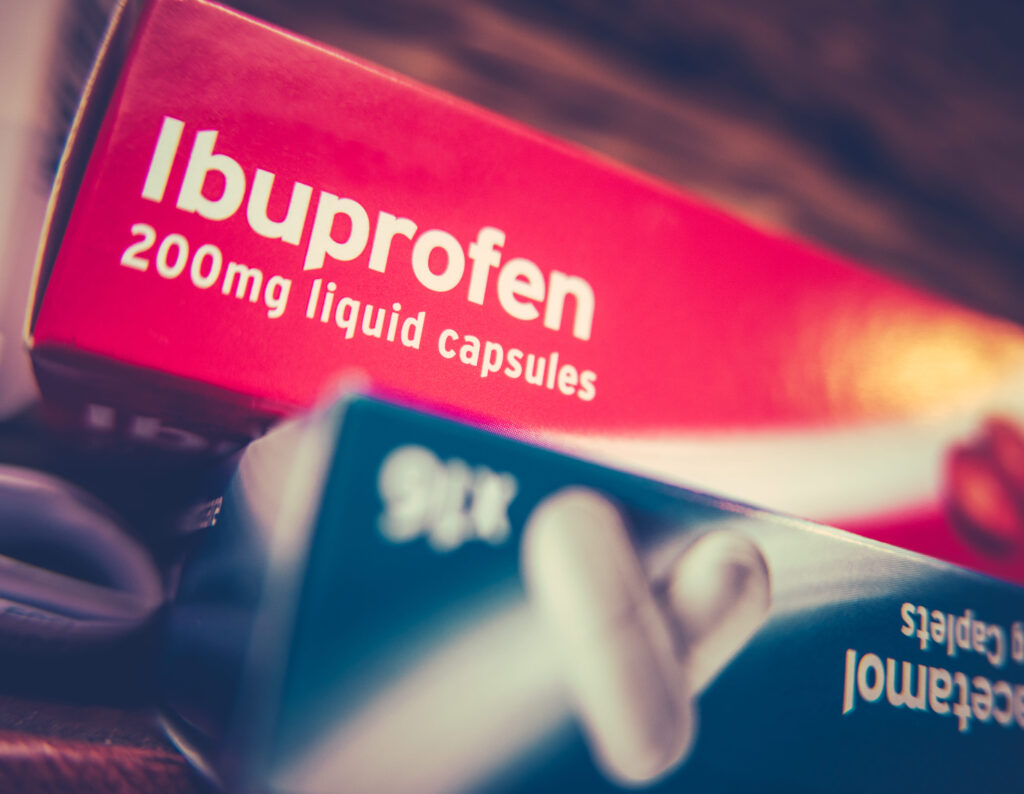 It's important to know that ibuprofen can have side effects, like high blood pressure, bloating, ringing in the ears, gastritis and ulcers. If you suffer from these conditions, you might want to talk to your doctor and search for alternative drugs or remedies.
When and how do you use ibuprofen
There are two kinds of ibuprofen: the prescription kind, which as the term says it's prescribed by a doctor, and over the counter ibuprofen, the kind that doesn't need prescription. Prescribed ibuprofen is used to relieve pain, tenderness, swelling, and stiffness caused by arthritis. It's also used to relieve mild to moderate pain, including menstrual pain. Nonprescription or over the counter ibuprofen is used to reduce fever and to relieve minor aches and pain (like for example headaches, muscle aches, menstrual periods, the common cold, toothaches, and backaches). You can take ibuprofen by mouth, in the form of tablet, suspension and drops but you can also apply on your skin. If you want to know more about this medicine, always ask your doctor about it.
What is CBD
The plant that we call cannabis was discovered and used for medicinal and ritualistic purposes in Central Asia around 750 b.C. The cannabis sativa plant has two "children", two very different components. One is CBD, the other one is THC. THC is psychoactive, CBD isn't. THC makes you "high", CBD is being studied for its effect in reducing anxiety, sleep's problems, depression, pain and a lot of other ailments. Even for psychosis! New uses are being discovered every day, even as we speak. For example, Dr. Brad Ingram, associate professor of pediatrics at the University of Mississippi, is leading a clinical trial into administering CBD to children and teenagers with drug-resistant epilepsy. Wonderful!
For all of these reasons, the CBD industry is flourishing. A lot of products with CBD are on the market: lotions, gels, oils, flowers, edibles, gummies. hempati.com is here for you if you want to start using them. And if you don't like smoking, that's not a problem at all!
What is an interaction between medicines and substances
What do we mean when we talk about drug interaction? Sometimes, drugs can interact with another drug but also with foods, beverages and supplements. An interaction can cause a malfunction of the substance, affecting how a drug works on our body, causing side effects or making the drugs less (or more) effective. Some drug interaction can even be very harmful. If you take several different medicines and you want to add another one, for example, you have to ask your doctors first, to avoid potential problems. Learning to read and understand the labels can also be very useful.
There are three categories of drug interactions: the one between two drugs, the one between drugs and foods or beverages and the one between drug and conditions. Sometimes, pre-existing medical conditions can make certain substances harmful. If you want to know more about CBD and interaction with other substances, you can click here. 
CBD and ibuprofen: do they interact? And how
It's easy to understand why you might want to take ibuprofen and CBD together. They are very similar, but one is a drug, the other one is not. Some might say they can have, in some cases, have a really similar effect on very similar conditions. Ibuprofen, and we know this for sure, does not mix well with some medicines. If you use it in a topical form and you apply it to the skin it's less likely to interact, but you need to be very careful.
If we are talking about CBD and Ibuprofen, then the truth is that we don't have enough studies to affirm that herbal remedies, supplements, CBD products and similar things are safe to take with ibuprofen. The reason is simple: these kinds of products are not tested in the same way as pharmacy and prescription medicines. The studies are still in motion. The majority of them seems to agree on a point: you should be very cautious with mixing CBD and ibuprofen. Both compounds, in fact, are metabolized in the liver by the same enzymes. The risk is there.
This seems to be the general rule, but now we have to make some distinctions and clarifications. Some studies and researches distinguish the CBD-drug interaction in two groups: the one that can result in a dangerous interaction, and should be never done, the one that should be approached with caution. The ibuprofen is put in the second group, not in the first. So, it's not always dangerous. 
What to do? The secret is in the timing and in the (low) dosage!
How long after taking CBD can you take ibuprofen
Spacing out your schedule helps to reduce the risk of negative interactions. Your doctor should be able to find the optimal dosage and timing for CBD and ibuprofen so that no potentially dangerous interactions occur. That said, it's always good practice to wait a while between taking ibuprofen and CBD. Taking CBD several hours before Ibuprofen or vice-versa will prevent the liver from becoming overloaded. Therefore, enzymes within the organ can focus on metabolizing only one substance. 
The timing also depends on the form of CBD you use or want to use. If smoked, CBD gets into the bloodstream faster than edibles (that require longer time to absorb) and topical formulations. Topical formulations, in fact, may not absorb into the blood at all. It also depends on cannabinoid concentrations in the product. Always check the label and talk to a professional.