As attention to a healthy lifestyle and personal well being increased, the success of hemp oil grew, thanks to its properties that favor physical and mental balance. In this article, it will be discussed the topic of CBD oil, how it is made and the several benefits that its assumption brings to the organism.
In a recent article we provided a guide to choosing the right oil extracted from cannabis sativa, by making a comparison between Hemp oil and CBD oil. The first one is a natural product obtained by pressing or extraction, and does not contain a significant amount of THC. It is a product that contributes effectively to regulating the immune system, as it contains vitamins, mineral salts, and amino acids.
Here we will now concentrate on CBD oil.
What is CBD oil?
CBD oil is the result of the extraction of cannabidiol from the cannabis plant, diluted with a carrier oil like coconut oil or hemp seed oil. CBD can be found on the market in a variety of products, including: dietary supplements, bath soaks, drinks, and food. Its reputation continues to increase in the health and wellness world, and several scientific studies have found that it can alleviate the symptoms of conditions such as chronic pain and anxiety. What differentiates CBD hemp oil from other common types [of oil] is the presence of cannabidiol (CBD), a real added value to the essence. This substance is present in different quantities, and it is well known for its calming, muscle relaxant, and antipsychotic properties. Also, it does not have psychotropic effects. This is why it is an effective remedy against anxiety, depression, neurosis, and psychic disorders of various nature. A regular ingestion in the form of drops can also help in the treatment of those who suffer from several neurological diseases (for instance Parkinson's and Alzheimer's).
How to use CBD oil
CBD oil can be used in different and creative ways, for instance:
mixing them into food or drink
taking them with a pipette or dropper
swallowing capsules
skin cream
spraying it under the tongue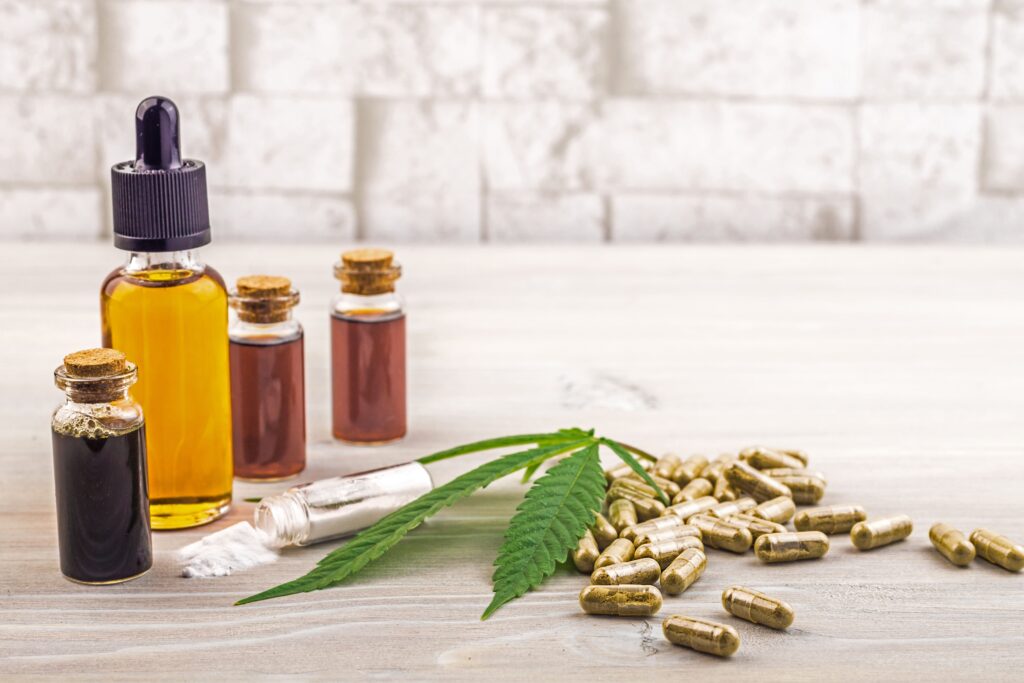 It is important to note that, when it comes to dose the right quantity of product, some factors must be taken into account, such as body weight, the concentration of the product, the reason for using CBD.
Benefits of CBD oil consumption
Following a list – according to a 2018 study – of several benefits that CBD oil can bring to a person's health.
Natural pain relief and anti-inflammatory properties. There is growing evidence that the non-psychoactive compounds in marijuana, such as CBD, could provide a new treatment for chronic pain. In addition, it can be used as an ointment, as it significantly reduces inflammatory skin disease.
Contributes to help quitting smoking. A 2013 pilot study discovered that smokers who used inhalers containing CBD smoked fewer cigarettes than usual. This suggests that CBD may help people quit smoking. The researchers noted that CBD reduced some symptoms associated with substance use disorders. These included anxiety, mood-related symptoms, pain, and insomnia.
anxiety and depression. CBD use has been shown to improve some symptoms related to anxiety disorders. Researchers are currently investigating how CBD may be used in the treatment of other mental health disorders.
sleep disorder. Some studies suggest that CBD might help improve sleep in people with certain sleep disorders, though more research is needed. At Hempati, we developed a specific CBD oil to support sleep improvement.
migraine
Stress. For this case, we suggest our CBD oil, created to help reduce stress.
nausea
Acne. It is proven that CBD helps to lower the production of sebum that leads to acne, partly because of its anti-inflammatory effect.
cancer. There is evidence that CBD may help prevent the spread of some types of cancer. The compound appears to suppress the growth of cancer cells and promote their destruction.
allergies or asthma
epilepsy and other seizure disorders
multiple sclerosis (MS)
lung conditions
Parkinson's and Alzheimer's diseases. A 2014 study found out that CBD might help people retain the ability to recognize familiar faces, an ability that people with Alzheimer can lose.
Possible side effects of using CBD oil
As with most therapies, CBD use may entail some risks. Possible side effects include:
liver damage
interactions with other drugs and alcohol
gastrointestinal problems and loss of appetite
mood changes, including irritability and irritation
To sum up what has been said, CBD oil is a versatile product that contains several positive elements that can contribute effectively to the general wellbeing. Also, even though CBD is considered quite safe for most people, it is important to talk with a healthcare professional before adding any CBD products to your routine, especially if you're taking any medications.
To conclude, it is fundamental to choose high quality products that prioritize consumer's demand. At Hempati, we provide a wide range of CBD oil, based on different needs.