Although they were first isolated from cannabis plants in the early 1940s, CBD and THC are still continuously studied by scientists due to their beneficial properties. Whether in oil or vape form, as discussed in previous articles, these are the most common cannabinoids found in cannabis products. But there are numerous products that contain these two substances, designed to alleviate ailments such as stress, anxiety and insomnia. To understand the side effects and potential benefits of these products, it is important to first understand the differences between CBD and THC.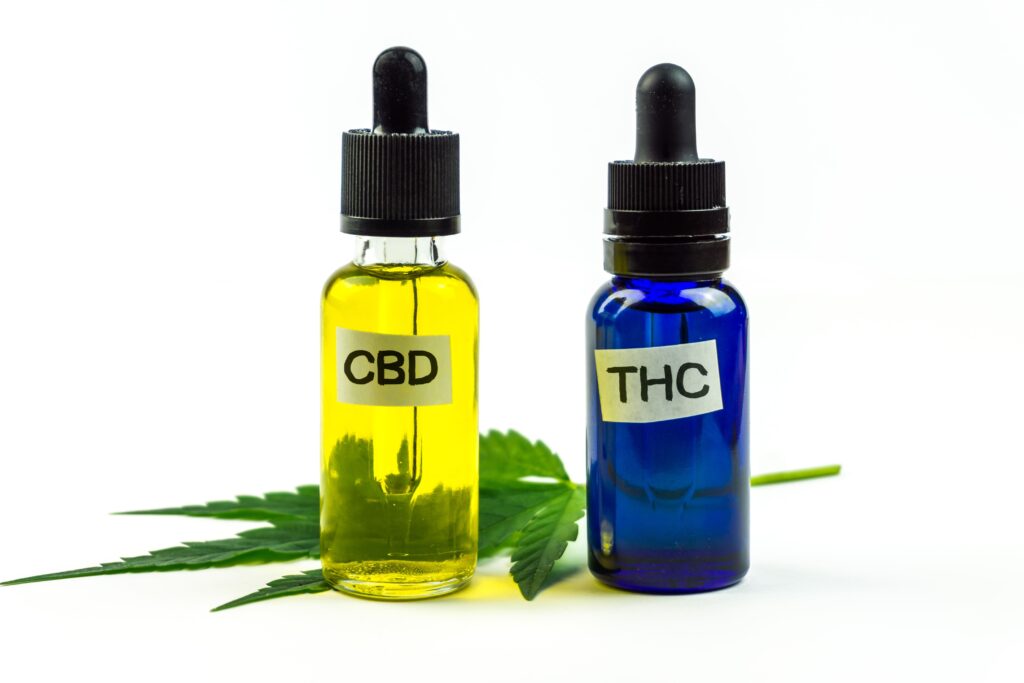 Both THC and CBD. are found in marijuana and hemp. Marijuana contains much more THC than hemp, while hemp has a lot of CBD.
How CBD and THC affect the body: benefits and side effects
Among the biggest differences between the two cannabinoids is the psychoactive effect caused by THC, with the famous 'high effect' in users of the substance. Two types of cannabinoid receptors are present in the human body. THC binds to receptors, mainly in the brain, that control pain, mood and other feelings. This is why THC causes euphoria and this famous effect.
CBD, on the other hand, does not bind to these receptors and does not cause the sensation caused by THC. It is designed to work with other elements in the body related to feelings of well-being. From arthritis and Crohn's disease to diabetes and multiple sclerosis. From anxiety and insomnia to chronic pain. There are various fields of use, although studies on their real effectiveness are only just beginning. In fact, the National Institutes of Health's database of clinical studies shows more than 160 studies involving CBD.
Some states authorise the use of THC as part of medical marijuana, THC can help alleviate such things as:
Multiple sclerosis pain
Neuralgia
Parkinson's disease tremors
Nausea
Glaucoma
Side effects
Although this substance brings numerous health benefits, it can also have side effects, including:
Concentration problems
Dizziness
Vomiting
Drowsiness
Balance
Memory loss
Side effects of CBD may include:
Nausea
Diarrhoea
Disturbed stomach
Tiredness
Dizziness
Irritability
Low blood pressure
Drowsiness
CBD can also alter the proper functioning of some medicines.
Some research suggests that CBD and THC are generally safe and cause few side effects. However, although these substances appear to be safe, this does not necessarily mean that they do not have some undesirable effects, in addition to those mentioned above. These include:
Changes in mood and appetite
Drowsiness
Feelings of anxiety or other mood changes
Nausea and dizziness
THC use can also cause unpleasant side effects such as increased heart rate, dry mouth, memory loss and panic attacks.
Marijuana itself can have a number of short and long-term adverse effects, including impaired short-term memory, impaired judgement and impaired co-ordination. Research also suggests that marijuana may alter brain development and may lead to cognitive impairment. 
NIDA also notes that THC alters the functioning of the hippocampus and orbitofrontal cortex. These areas of the brain are important in the formation of new memories and the ability to shift attention from one thing to another. This not only affects a person's ability to learn and form new memories, but also makes it difficult for people to perform difficult tasks.
Properties of THC and CBD
The main differences between THC and CBD include:
Chemical structure. Chemically, both molecules share the same chemical formula, albeit with different structures. In addition, CBD and THC bind differently with the receptors of the endocannabinoid system in the body.
Psychoactive properties. Although it is common to consider THC the only one of the two molecules to have psychoactive properties, CBD also has the same effect, but does not alter mental functions.
Possible undesirable effects. THC tends to give effects such as disorientation or paranoia, whereas CBD – even when used in larger quantities – generally results in drowsiness.
Legality of substances. Different countries have laws in place that vary according to context and are concerned with regulating the percentage of the substance in products on the market.
How to take CBD and THC
Before choosing whether to take a THC or CBD product, it is important to ensure that these products are legal in your country, as the percentage of the substance that may be present in a product may vary depending on the context. CBD and THC can also affect an individual's health condition and may interact with certain medications, so it is important to take a cautious attitude before using these substances.
Let us now review the ways in which THC and CBD can be consumed. As for the former, it can be consumed by smoking marijuana, but also as:
oils
Tinctures
Sprays
Vape products
Chewing gum or chocolates
Beverages containing marijuana oil
Similar to THC, CBD can also be taken in different ways. CBD oil can be taken through vape products (as we have seen above). It can also be applied as skin creams, oil, pills, candies and drinks. 
With regard to CBD products, one must also take into account the various types, including CBD isolate, broad-spectrum CBD and full-spectrum CBD.
CBD and THC: which one to take?
In this case, one must consider the effect one wishes to achieve. If, for example, the goal is to reduce stress or improve sleep quality, CBD could provide benefits without the side effects associated with THC.
Conversely, THC is the optimal choice for treating symptoms such as poor appetite. Some research, in addition, suggests that the therapeutic potentials of both molecules tend to be greater when combined together, rather than separately, due to the entourage effect. One must also consider the doses taken of both substances, which may or may not favour the effects of one or the other.
Drug testing: THC or CBD?
In drug tests, THC is more likely to be detected than CBD, as not all tests are designed to detect cannabidiol. Sometimes, however, some CBD products contain traces of THC, which can be detected if large amounts of CBD are consumed. it is fair to mention that in many countries, THC is considered illegal.
Visit our online store to learn more about Hempati products.