We have already discussed in a previous article the benefits and main uses of CBD oil as a product that promotes the regulation of the immune system, having vitamins, minerals and amino acids among its components.
How is CBD oil obtained?
CBD oil is obtained through the extraction of cannabidiol from the cannabis plant, which is then diluted with coconut oil or hemp seed oil (which in this case is called carrier oil). The main feature that differentiates CBD oil from other commonly used types of oil is that cbd oil contains cannabidiol. This is a substance known for its calming, muscle-relaxing and anti-psychotic properties and, in addition, it has no psychotropic effects. Precisely because of these properties, it is indicated as an effective remedy for decreasing anxiety, depression and mental disorders of various kinds.
Using CBD oil
CBD oil is a versatile product that can be taken in a variety of ways, such as
mixing it with food or drink
taking it with a pipette or dropper
massaging cream into the skin
spraying it under the tongue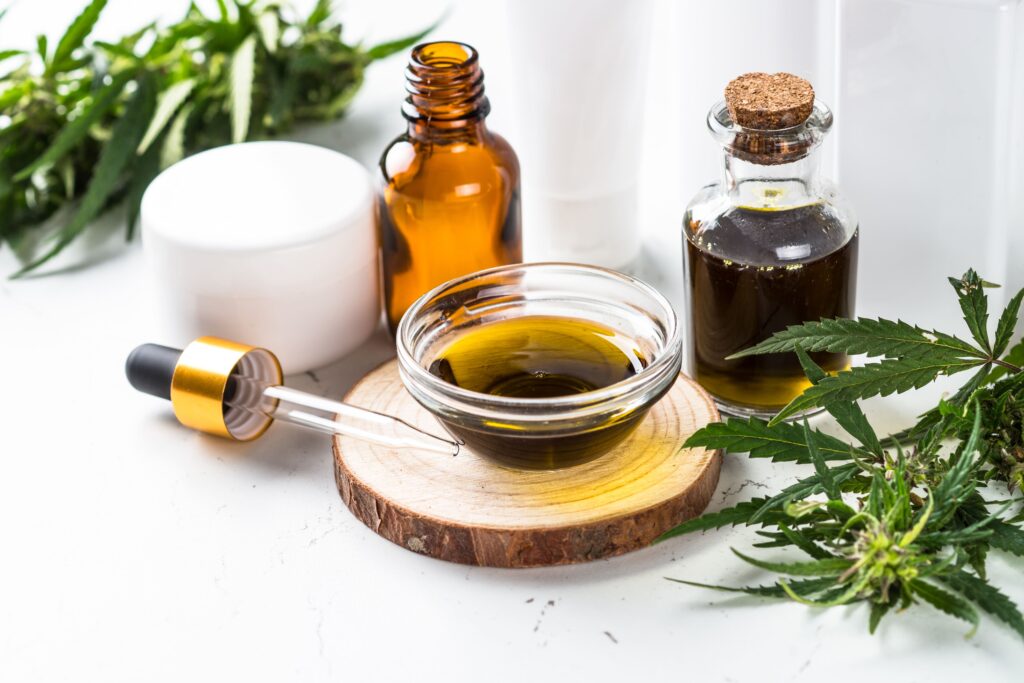 It is important to note that when it comes to dosing the right amount of product, certain factors must be taken into account, such as: body weight, concentration of the product, and the reason for using CBD.
Benefits of using CBD oil
Following is a non-exhaustive list of benefits that CBD oil intake can bring to the body:
Natural pain relief and anti-inflammatory properties. There is growing evidence that non-psychoactive marijuana compounds, such as CBD, could provide a new treatment for chronic pain.
Helps with smoking cessation.
Reduces anxiety and depression. The use of CBD has been shown to help improve some symptoms related to anxiety disorders.
sleep disorders. Some studies suggest that CBD may help improve sleep in people with sleep disorders. We at Hempati have developed a CBD oil specifically to help improve sleep.
Acne. CBD has been shown to help reduce the production of sebum that leads to acne, partly due to its anti-inflammatory effect.
Parkinson's and Alzheimer's diseases. A 2014 study found that CBD could help people retain the ability to recognise familiar faces, an ability that people with Alzheimer's may lose.
Asthma and allergies
Stress and migraines
Possible adverse effects include:
liver damage
interactions with other drugs and alcohol
mood changes, including irritability and irritation
Type of CBD oil
As mentioned above, it is important to choose the CBD oil that best suits the intended use. For this reason, Hempati has developed different types of CBD oil, depending on the needs required. In particular, products have been developed to relieve stress, but also to reduce sleep disorders and help the immune system. 
You can also decide whether to opt for CBD oil in bulk and choose the type, whether full-spectrum CBD oil or CBD isolate.
In the first case, full-spectrum CBD oil refers to the oil extracted from the entire Cannabis Sativa plant. Full spectrum CBD oil contains the full range of cannabinoids present in the plant, including some known for their therapeutic properties, but also flavonoids and terpenes. As for the THC present, this never exceeds 0.2 %, in full compliance with European regulations. Another characteristic of full-spectrum CBD oil is the entourage effect, which consists of the synergistic action of the components that benefits the organism. As far as CBD isolate oil is concerned, the substance is isolated from other cannabinoids.
Furthermore, buying in bulk you can choose the potency of the effect (which varies in percentage depending on the amount of CBD).
Buying CBD oil: what characteristics to consider
When deciding to buy CBD oil, one has to consider a number of factors that can help the consumer navigate the purchase such as:
the quality of the product. Aspects such as sustainability, compliance with regulations, product origin, precision in dosing, and attention paid to offering the best quality must be considered. With regard to current regulations, it should be remembered that the permitted amount of THC is <0.2% for the European Union but may vary in individual states.
A customer service that is attentive to the needs of the consumer, from packaging to efficiency and speed in service.
The level of secondary cannabinoids. Indeed, oils that have 0.001% CBN, CBC and CBG are often called fullspectrum. It is clear that, although present, they are practically non-existent in this percentage. One must therefore ascertain what the quantity really is. For example, our CBD oil has very high secondary cannabinoids. The classic line has 1-2-4% CBG and also high values of CBN and CBC (between 0.3%-0.6%) while the specific ones (anti stress, immune system and sleep)  around 0.3% CBN and CBC and CBG. 
Choosing the right dosage
To consume the product safely, one must consider dosage, taking into account certain recommendations:
If you are using the product for the first time, start with caution, taking low concentrations of the substance.
Read the information on the product, it is recommended to take CBD oil sublingually.
Learn more about Hempati.