In this article, we will discuss the interaction and possible undesirable effects of CBD products with medicines taken by consumers. Although a safe substance, CBD may have undesirable effects. Consumers suffering from specific diseases and taking medication for treatment are advised to be careful when supplementing CBD with medication. In this case, even serious effects may occur, depending on the type of medication and its importance for the individual's health.
We can therefore say that yes, CBD can potentially interfere with other medicines.
How does CBD interact?
Interaction is possible because CBD is metabolised by enzymes in the liver. Cannabidiol is said to be a stronger 'competitive' inhibitor than other substances, with the result that the action of liver enzymes is focused on CBD metabolism. The result is that the metabolisation of other drugs taken is prevented and therefore not disposed of by the body. A slower metabolisation of the drug results in a higher concentration of the substance in the blood, which can lead to unwanted effects.
The interaction between CBD and other drugs depends on:
CBD dosage. There is currently no fixed dosage that indicates at what point CBD does not interact with other drugs
Mode of intake of CBD. Attention must be paid to how it is taken: inhaled CBD is not metabolised by the liver and enters directly through the lungs, and this also applies to products applied to the skin. The opposite is true for products taken orally, such as tablets and oils, which are metabolised in the liver.
When taking CBD. The possibility of CBD interacting with drugs increases if they are taken at the same time. In such cases, one must take into account how quickly the drug used is metabolised and disposed of by the body.
CBD oil: possible side effects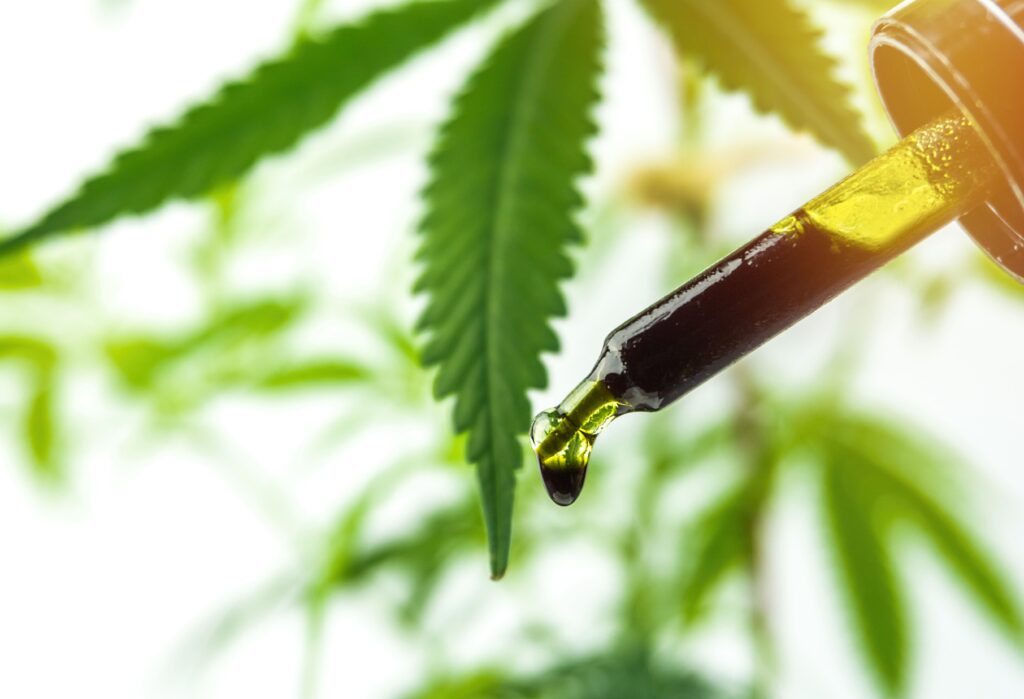 Taking CBD oil does not pose a serious health risk, but one must still consider the possibility of negative effects. Possible side effects that taking CBD oil may cause include:
dry mouth. CBD oil interacts with the salivary glands, affecting saliva production.
Dizziness. Another effect is the lowering of blood pressure, which can lead to dizziness, especially for those suffering from low blood pressure
Diarrhoea. CBD may cause stomach upset; this effect may occur in more sensitive persons.
Drowsiness. CBD oil may cause drowsiness or fatigue, especially if high amounts are taken.
Although there are contraindications when it comes to taking CBD, it remains a safe substance that is well tolerated by the body.
CBD and the cytochrome P-450 enzyme system
As mentioned above, the body metabolises substances via enzymes in the liver, in particular the cytochrome P-450 enzyme system, which breaks down substances into simple molecules that are then used within the body. One of the effects of CBD is to render this system ineffective. Since most drugs are metabolised by cytochrome P-450, CBD may interfere with their effects. For instance, patients should pay attention to the interaction CBD might have with the following categories of drugs
drugs for epileptic attacks
antidepressants. Although rare interactions between these drugs and CBD have been found, it is best to consult a doctor for advice on the right dose to take.
anti-flu drugs
anxiolytics
anticoagulants
painkillers
medicines for drowsiness
blood pressure medications. CBD is known to affect blood pressure and the heart, so caution is advised when choosing to take it.
anti-HIV antivirals
steroids
The grapefruit test
This type of test provides a simple way to find out whether CBD can interfere with the efficacy of certain medications. If your doctor has recommended that you do not take grapefruit to avoid possible side effects, then it is recommended that you do not take CBD either. This is because CBD interacts with other drugs in the same way as grapefruit does, since the substances contained in the fruit are metabolised by the cytochrome-450 enzyme family, just like CBD. The result is that the drugs will not be metabolised properly.
Therefore, to find out if you can take CBD, ask your doctor if eating grapefruit will not have any negative effects while taking the drug.
Conclusions
Now that the undesirable effects that interaction between CBD products and drugs can cause in the body have been listed, it is recommended that, before deciding to take CBD, one should pay close attention to the possible side effects of the drug one is taking. Furthermore, it should be remembered that the effects of medicines, as well as of CBD, vary from person to person.