Studies in recent years have shown how the use of marijuana and CBD can alleviate symptoms of certain diseases, with the resulting benefits. In particular, CBD has been found to have potential health benefits for symptoms such as insomnia. 
In this article, we will look at what CBD is and how it affects sleep and the body.
What are cannabinoids and CBD?
Cannabinoids are chemical compounds that bind or attach to certain receptors in the central nervous system and act as chemical messengers. Depending on the specific
cannabinoid, it can have various and different effects on the body. Among the best-known cannabinoids – and probably the ones most subject to study and research – are cannabidiol (CBD) and tetrahydrocannabinol (THC). The substantial difference between the two compounds is to be found in the psychoactive 'or high' effects caused by taking THC, unlike CBD. The latter, not causing such effects, helps with certain conditions, such as pain, anxiety and insomnia.
How does CBD and cannabinoids work?
Research on cannabinoids (including CBD) is still ongoing and is a 'hot topic'. What has been discovered so far, however, reveals that CBD and cannabinoids interact with proteins and cells in the brain. A relatively recently discovered system.
The endocannabinoid system and sleep
Researchers have discovered that the endocannabinoid system plays a role in maintaining certain body functions, such as mood, appetite, sleep, and the regulation of circadian rhythms. Within the endocannabinoid system, there is a network of cannabinoid receptors present in the brain and central nervous system. The two primary receptors identified are CB1 and CB2. Cannabinoids attach themselves to these cells and have various effects. Regarding how they may affect sleep, some research indicates that the cannabinoid CBD may interact with specific receptors, potentially affecting the sleep/wake cycle. 
In addition, CBD may also reduce anxiety and pain, both of which can interfere with sleep. By reducing certain symptoms, it is also possible that sleep may improve.
What does research say about CBD for sleep?
Although more studies are needed and we are only at the beginning, some research supports the theory that CBD and cannabinoids can improve sleep. A study published in the journal Medicines, which involved 409 people with insomnia for a period from June 2016 to May 2018, showed that after treatment with CBD, the disorder decreased dramatically. The research participants rated their insomnia symptoms on a scale of 1 to 10, with 10 being the most severe. Initial symptoms were rated an average of 6.6. After treatment with CBD taken in various forms, participants rated their symptoms an average of 2.2, which was a decrease of 4.5. The results indicated that cannabinoids in cannabis reduced insomnia symptoms. But the study involved the use of the cannabis flower, which contains several cannabinoids. It is difficult to determine whether the relief of insomnia was due to CBD or another cannabinoid.
In another study published in the Permanente Journal, 72 adults with anxiety and poor sleep were involved. Participants were given 25 mg CBD in capsule form. All those who had predominantly sleep disorders were given the prescribed dose in the evening. After the first month, sleep scores improved in 66% of the participants, which indicated less sleep problems.
Several smaller studies have also supported the use of CBD oil to improve sleep. For instance, a case study involving a 10-year-old girl with post-traumatic stress disorder and poor sleep was treated with CBD. By administering 25 mg of a CBD supplement before sleep, and another 6-12 mg of CBD administered via a sublingual spray during the day for anxiety, it was found that the quantity and quality of sleep gradually improved over five months.
Although there is much supporting evidence that CBD and cannabinoids can improve sleep, the results are not conclusive and further research needs to be done.
CBD forms
CBD is extracted from the marijuana or hemp plant, which are both strains of the Cannabis sativa plant. Indeed, hemp plants and marijuana plants are both the same species. Legally, hemp is defined as a cannabis plant that contains 0.3 percent or less THC, while marijuana is a cannabis plant that contains more than 0.3 percent THC.
In 2020, the European Court sanctioned the free movement of CBD; no EU member state can prohibit the trade of cannabidiol that is legally produced and certified in one of the member states.Thus, in Europe, there are no legal limits on the active CBD ingredient that can be used. This is not the case for THC, whose concentration must be below a certain threshold depending on the state (in Italy 0.2%).
Since smoking the flowers can have a more immediate impact, the most commonly used method is the consumption of cbd inflorescences. It is also increasingly common to use cbd oil as it is less invasive and easier to dose.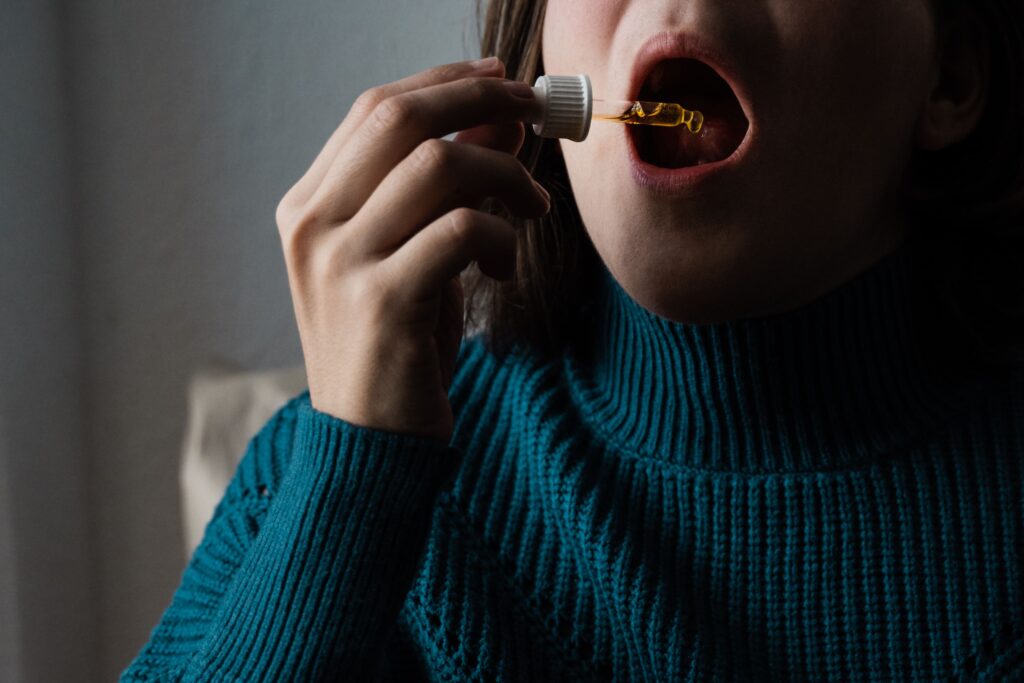 CBD oil can be placed under the tongue. It can also be infused into various products including the following;
Edibles: Various types of edibles infused with CBD oil are available, including gummy bears, cakes and biscuits. Edibles usually indicate the concentration of CBD in milligrams.
Vaporization: CBD extract can be used in a vaporizer or vaporizer pen. When the extract heats up, it creates a vapour that is inhaled.
Tinctures: CBD is also available in tinctures. A few drops of the liquid can be added to drinks.
CBD oil is available in different concentrations. Since research is ongoing, the exact dose to treat sleep problems may not be fully known. It may take some trial and error to determine the correct dosage, which varies from individual to individual.
Ultimately, there is scientific research that supports the theory that CBD has health benefits. While more research is needed, the use of CBD will reduce insomnia symptoms and help you get more quality sleep.