We have seen in previous articles how CBD differs from CBG and its countless properties when used in oil form. In this new depth we will find out how this extract is also indicated for relieving states of anxiety and depression, analyzing the pros and cons of taking this substance.
Its beneficial action is thought to be due to its work on the receptors attached to the cells of the human body, which are protein-based chemical structures responsible for receiving signals from various stimuli. CB1 and CB2 receptors, found mainly in the central nervous system and the peripheral nervous system, are involved. Exactly how CBD affects CB1 receptors in the brain is not entirely clear. However, it can alter serotonin signals, a neurotransmitter that plays an important role in mental health. Low serotonin levels are commonly associated with people suffering from depression. In some cases, not having enough serotonin can also cause anxiety.
CBD: types of anxieties
In support of CBD's benefits on anxiety, various research has been done over the years: 51% of US adults who use CBD do so to relieve their anxiety, according to a recent Forbes Health survey of 2,000 adults. Science, on the other hand, has researched CBD's anxiolytic properties by testing it on different types of anxiety:
CBD for anxiety: The US Food and Drug Administration (FDA) has not yet approved any CBD-based drugs for anxiety. However, many studies indicate that the substance can be an effective anxiolytic.
CBD for generalised anxiety: The National Institute on Drug Abuse (NIDA) states that CBD has demonstrated the ability to reduce stress in animals, such as rats. It was observed that the study subjects had lower signs of anxiety. Their physiological symptoms, such as increased heart rate, were also improved. A further study indicated that the benefits in humans are not dose-dependent, as it has been shown that a higher amount of the product is not necessarily more effective.
CBD for anxiety and depression: In 2020, researchers tested the effects of CBD oil at varying doses on 397 patients with a multitude of disorders. Participants with non-cancer pain or mental health-related symptoms experienced significant improvement in anxiety and depression, as well as in their ability to complete their usual activities. The use of CBD oil suggested significant pain relief in these groups as well.
CBD for Post Traumatic Stress Disorder and Phobia Therapy: A 2019 study of 11 patients found that when consumed orally and administered alongside routine psychiatric care, CBD reduced the severity of patients' post-traumatic stress disorder (PTSD) symptoms. In this respect, further studies suggest that CBD may reduce symptoms of post-traumatic stress disorder when consumed with THC. When taken together, the two compounds create what is known as the 'entourage effect' (which we have already discussed).
How to use CBD to treat anxiety disorders
A guideline on the optimal intake of CBD for anxiety has not yet been outlined, so efficacy varies from metabolism to metabolism.
The substance can be taken in the following forms:
Oils and tinctures: available in dropper bottles and are consumed orally
Chewing gums: these are chewable, sweet and often fruit-flavoured
Sprays: come in bottles with a nozzle to be sprayed orally
Capsules: soft or tablets, are taken individually orally like a pill
Vapourisers: heat the CBD oil without igniting it, producing an inhalable vapour
Flowers: dried hemp plants that are usually lit and smoked
Creams and gels: spread on the skin for localised treatment, they introduce CBD topically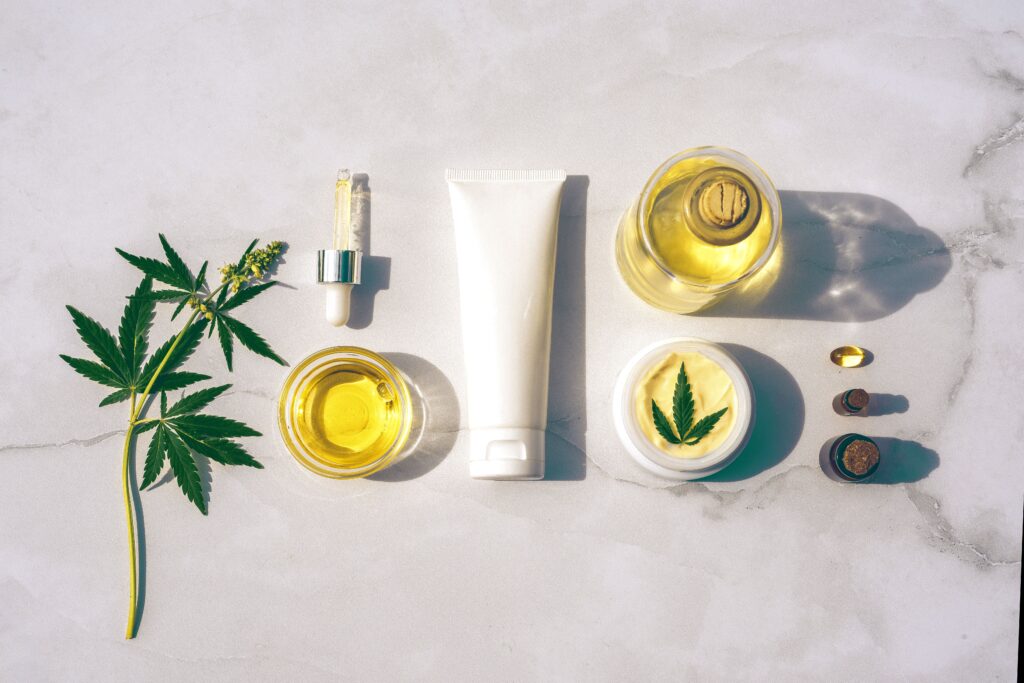 CBD dosage
As illustrated above, not a high dosage is always optimal for alleviating states of anxiety. Experts suggest starting small and leveling up depending on how the body reacts. In a study conducted in 2018, male subjects received CBD before undergoing a mock test in which they had to speak in public. The researchers found that an oral dose of 300 mg, administered 90 minutes before the test, was sufficient to significantly reduce the speakers' anxiety. Other study subjects who received 150 mg, however, experienced little benefit. The same was true for subjects who received 600 mg.
Further studies indicate that taking 25 to 75 milligrams of CBD oil was beneficial for generalised anxiety and/or sleep problems; 33 to 49 milligrams per day for Post Traumatic Stress Disorder, in addition to routine psychiatric treatment. Another study, involving hundreds of patients, found success with doses from 40 milligrams to 300 milligrams per day, further supporting the idea that CBD dosage varies significantly, depending on a person's symptoms and physiology.
Potential risks and side-effects
The World Health Organisation considers CBD to be a safe and generally well-tolerated substance. Studies report very few adverse effects. However, taking CBD while taking other drugs may pose a risk (as with anticoagulants), as these substances may interact with each other and cause unwanted effects, such as weight gain, drowsiness, stomach upset and change in appetite. A study in mice found that being given very high doses of CBD, or related products, increased the risk of liver toxicity, which was also confirmed by Dr. Cheryl Bugailiskis, a cannabis specialist at Heally, a telemedicine platform for alternative medicine.
More easily, the following problems can be encountered:
diarrhoea
fatigue
changes in appetite
weight changes
In conclusion, the benefits of CBD are manifold, but nevertheless one should not stop therapy and medication without first consulting a doctor. And just as the use of CBD oil can alleviate anxiety, one should not abruptly stop taking the medication to avoid experiencing withdrawal symptoms, which include:
irritability
dizziness
nausea
fogginess
To find out more and learn about our products, visit our online store.