Table of Contents
Introduction
Welcome to the wonderful world of the different types of hash| It's amazing how far we've come from just finger hash. Nowadays, we can extract crystal-pure THC, which is basically a green superpower. But the journey to perfecting hash wasn't all smooth sailing. It's both a science and an art, and the process is like a journey of never-ending discovery.
So, picture this, you're on a trip to Amsterdam and walk into a local coffee shop. You order a Black Afghan, and your mind is blown! Fast forward a year, and you are walking into a dispensary in California. You order a BHO, and your mind is blown yet again! But what's the difference between the two?
Don't worry, my fellow hash enthusiasts, I've got you covered. From the streets of Nepal to the mountains of Morocco, I'll take you on a journey of different types of hashish out there. So buckle up!
Hash Varieties from Around the World
Have you ever thought about the various hash types that exist worldwide? They're like cousins – some similarities but all very different and unique. Let's explore the diverse and exciting world of hash!
Afghan Hash
Afghanistan is not just famous for rugged mountains or war-torn regions but also for one of the world's best hashish production. The Afghan people have been cultivating cannabis indica for centuries, but the 60s and 70s saw a rise in the Hippie Trail. This brought along young tourists to the hashish trade. Now, in modern times, Afghanistan has become the ruling champion of hashish production worldwide.
You won't believe this, but in Afghanistan, hashish is called chars – no, not Charas! And let's just say they have a unique way of making it. First, they remove the trichomes from dried cannabis buds to create kief, which the locals call garda. Then, they mix it with hot water and/or tea over a low flame until it looks like dough. Finally, they knead it with their bare hands and sometimes use their feet (yeah, that's right, their feet) until it becomes black and has a thickness that reminds you of fudge. I don't know about you, but this sounds like quite an adventure.
It's crucial to note that good-quality Afghani hash comes with a seal of approval from the producer. Let me tell you, this stuff is not for the faint-hearted! It has this spicy kick that'll make your throat feel like the Sahara desert. And the high? Let's say you'll be staring at your couch cushions for hours. But don't take my word for it. Try it yourself and see why I call it my "absolute favourite".
Charas
Let's talk about Charas, a fancy hash that originated in India and is unique. You won't find anything quite like it anywhere else! Cannabis is all over the place in India, Pakistan, and the Himalayas. People have been using this stuff for everything from medicine to industry to spiritual practice for thousands of years. If you're a fan of cannabis, you should try Hempati's Himalayan Charas, which is a unique blend of CBD and CBG.
This bad boy is made from live cannabis instead of dried cannabis flower. This sticky, brown hash is made by rolling fresh buds between your palms. Over time, you accumulate this resin on your hands, making you look like you've been tanning in the dirt. The result is crystalized balls of goodness, the perfect way to elevate your night.
It's like a soft, creamy hash that's all dark and mysterious on the outside but a lighter brown or green on the inside. And the smell? Forget about it. But that's not all – Indian Charas has got a little bit of sass too! It's spicy, bold, and packs a punch. It's potent enough to knock you out. It's like your body is deep-diving into a pool of pure relaxation.
Kashmiri Hash
Let me tell you about Kashmir, the land of the happiest herbs. It's way up north in the Indian subcontinent. Not only is it gorgeous, but it's got some sweet, sweet hash and opium. Now, there's not a lot of info on the Kashmiri hash, but it's the stuff of legends. It's a bit like charas in the production process but with more zing, spice, and a harsher draw. And let me warn you; it's not for the faint-hearted. One hit and you'll be feeling a strong physical stone.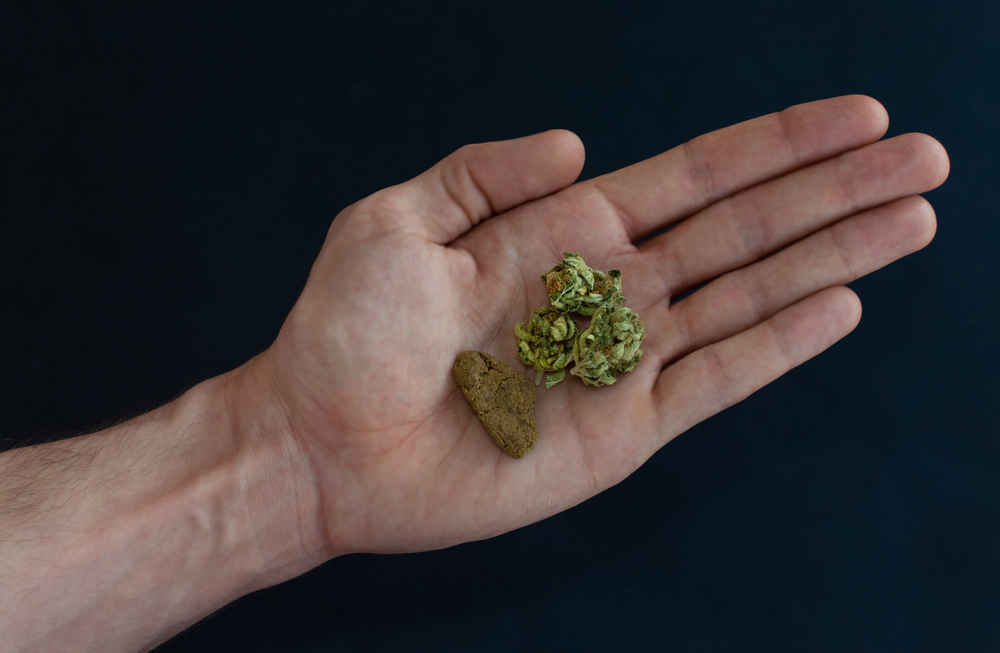 Lebanese Hashish
Lebanon's relationship with hashish is one for the books. They've got history. Like, seriously. Vast amounts of hash are produced there every year, with exports worth over $200 million! The successful consulting firm McKinsey and Co actually advised the Lebanese government to legalize cannabis as a way to boost the economy. Maybe we'll see Lebanon topping the "most stoned country" charts in the future!
Lebanon knows how to grow some premium cannabis. It's like they've got a secret recipe or something because that green goodness is grown best in the Bekaa Valley. Their plants are left to bask under the sun until they turn a warm yellow, dark brown, or fiery red.
First, the buds get dried out. Then they go through a giant strainer to make kief. Next, The kief is pressed into thick slabs of brittle hash with a coveted yellow or red hue. People even call them Yellow or Red Lebanese hash.
Lebanese hash sure packs a punch! This stuff is no joke – with a spicy scent that packs a punch and a harsh smoke. Yellow Lebanese is like that chatty friend who stimulates your mind with interesting conversations, while red is like that couch-potato friend who will put you in a trance. Personally, I prefer yellow. It makes me feel like a philosopher or maybe just a talkative parrot.
Manali Hash
Manali is the land of ancient villages and hashish that will make your day. The people there have their lingo, which is said to be a mix of Sanskrit and Tibetan. But wait, there's more. The 1,500 folks living there make a living by growing and processing cannabis. Now that's what I call a green industry!
The hash from Manali is so smooth they call it Manali Cream. It's not just a delicacy in India either – even the Amsterdam locals can't resist it, with folks paying up to 30 euros for a hit.
It's like charas, but instead of kneading dough, it's made by rubbing live cannabis buds between your palms to yield a thick, dark resin. When it's fresh, this mild hash is soft, tender, and reminiscent of the sweet aroma of fresh buds and then turns into a harder delicacy over time. The flavours and aromas are so fresh you'll want to keep sniffing it. The best part – it's a mild hash, so you can enjoy a smooth and delectable smoke without spice, as you find in Lebanese or Afghani varieties.
Moroccan Hash
Cannabis has been a big thing in Morocco for centuries. They've been growing it since before it was cool. Apparently, it was brought to the country between 640 and 710 AD. In the 18th century, the northern region of Rif nailed cannabis production and became one of the major players in the game.
Moroccan hash is made by absolutely beating dried-out cannabis branches over fine sieves to produce kief, a dusty substance that is then heated and pressed into all sorts of shapes and sizes.
The result can be anything from dark green to light brown, depending on how fresh the plants were when harvested. Moroccan brick hash is known for being hard and brittle, essentially a chocolate bar. On the other hand, Moroccan pollen hash is the softie of the group, more like a bit of marzipan.
When done right, it smells like heaven and hits like the devil. It's a treat to the senses! This hash isn't like any other- no spicy twang, only a smooth, mellow experience. Plus, the high will lift you so high that you'll feel like you're on top of the world.
Nepalese Hash
Welcome to Nepal, a stunning region nestled in the heart of the Himalayas! Much like its neighbours India and Afghanistan, cannabis grows freely in this fertile land and has a rich cultural significance. The cannabis plant has played a fascinating role in the local community.
In Nepal, they make hash a little differently. They roll it into these massive balls called Nepalese temple balls. Apparently, the Nepalese use dried cannabis flowers instead of live cannabis buds. They roll these balls with their hands and collect the sticky resin that builds up. These balls have this insane shine to them.
Nepalese hash is like spreading creamy, sticky goodness all over your taste buds. This stuff has a pungent, spicy aroma that'll knock your socks off. It's so smooth when you smoke it, and you might even forget you're smoking! Nepalese hash is potent and can produce a serious body stone. If you're ever in Amsterdam, visit a coffee shop and try Nepalese temple hash. It's a delicacy, like Manali Cream.
Pakistani Hash
You won't believe this, but hash is technically illegal in Pakistan! However, it can be easily found in the northern tribal territories. You'll be surprised that hash is being produced and sold like it's nobody's business. Hashish has been ingrained in Pakistan's culture for some time now, and Pakistani hash can be excellent quality stuff.
Hash enthusiasts in Northern Pakistan often lovingly call the best quality hash Awal Namber Garda, or "top-grade dust" in English. Making this special treat is pretty straightforward; take mature cannabis plants, dry them out, sieve to create kief, and then press and heat into thick, black hash slabs.
However, some locals go the extra mile and age their hash inside goatskin or sheepskin for three months. According to them, the result is a final product that's way more potent and flavourful.
Pakistani Hash is black as the abyss, has a spicy aroma that'll knock your socks off, and is known for being harsh on the throat. This stuff's got enough kick to keep you glued to the couch for what feels like an eternity.
Turkish Hash
Turkey also knows how to produce some seriously good hash. But don't go thinking you can light up a joint just anywhere! Cannabis is illegal in Turkey. However, they allow cultivation and hash production for medical and research purposes in certain provinces.
Turkish hash is produced by repeatedly pressing kief and heating it into big black blocks, much like Pakistani, Afghan, or Moroccan hash. If made correctly, the hash becomes rock-hard Turkish brick, which is also brittle. Once smoked, it's all smooth operator with a slight kick of spice. Despite being made from younger plants and boasting mild potency, this unique cerebral high is no joke.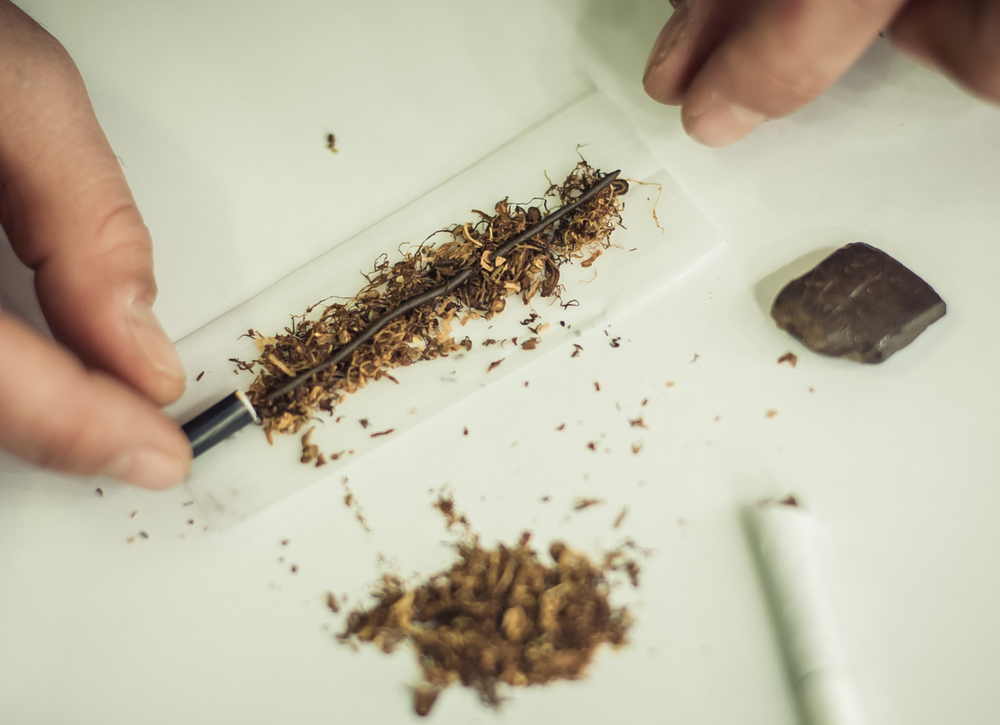 Bubble Hash or Ice Water
So you may have heard of hash, but have you heard of Bubble Hash? No, it's not some new bath product! Bubble Hash, also called Ice Water, takes hash to a new level.
First off, the process is all about the cool vibes. Throw some frozen cannabis buds, water and ice into the mix, and give it a good agitation. This will separate the trichomes from the buds. Then you run the mixture through mesh sieves of different sizes to filter out the good stuff. The end result? A crumbly, crystallized honey-like hash that's incredibly potent.
Bubble Hash is like the Avengers of cannabis concentrates. It's potent, fragrant, and packs a punch! The cold temperatures used during extraction preserve terpenes and flavonoids that may be lost with heat, resulting in a lip-smacking sensation.
Hash from Hydrocarbons – BHO
Hash has changed a lot! Back in the day, folks were content with a simple puff puff pass, but now, people are all about those fancy extracts using propane, butane, and CO2 to get maximum cannabinoids and terpenes from their Mary Jane. They even have quirky names like Budder, Wax, and Shatter. Now, they're taking over the cannabis market and getting popular in North America.
If you're making hash using butane, propane, or CO2, proceed cautiously! That's because chemicals used in the extraction process can be seriously volatile and toxic. But if you can nail the purging process, you'll be blazing some of the best hash around.
CBD Rocks And Hash from Hempati
If you're a cannabis enthusiast, here are four awesome products from Hempati that you absolutely can't miss.
Himalayan Charas
First off, the Himalayan Charas – it's soft, sticky, and oh-so-good. If you like Pakistani THC, you'll dig this one.
Elephant Hash
And then there's Elephant Hash. Its smell is insane! You'll be hooked as soon as you take a whiff. Plus, it's crumbly yet compact and perfectly designed for those munchies.
Moon Rocks
Moving on to Hempati's Moon Rocks – I must say these tiny buds of cannabis covered in CBD resin and pollen are amazing. Super fruity smell, and the effect is even stronger!
Ice Rocks
Last but definitely not least, the Ice Rocks are no joke – they've got the highest levels of CBD on the market. They are dipped in Pure CBD crystals, making them look all snowy and icy. When you're craving a powerful CBD hit, this is the stuff you want.
Conclusion
Hash is like a box of chocolates. You get a different taste from each one! Homemade bubble hash or something from the dispensary, one thing's for sure: it's always a different kind of buzz.
But with great hash comes great responsibility. So respect the plant, and ensure you don't overdo it unless you want to end up like me, locked in a staring contest with your reflection for hours. It's not as fun as it sounds.
So go ahead and tweak your hash game: you never know which one will be your high-light of the week!