CBD can be taken in several ways, as we have seen in previous articles. Having ascertained the benefits it has on the body and to alleviate certain diseases, one of the most suitable and quickest ways to take this substance is through vaping. It is important to note that the substance contained within the 'pens' is the result of a product compound: called CBD e-liquid. This is typically composed of CBD, vegetable glycerine (VG), propylene glycol (PG) and flavourings.
Another way to vape CBD is to vaporise the inflorescences. Devices such as those made by storz-bickel are perfect for this purpose. Cannabinoids are taken without combustion, with all the indicated benefits but in a much more natural way than e-liquid.
Among the reasons why this method of intake is recommended is the speed with which it is absorbed by the human body. In fact, edible forms can take more than 30 minutes to be digested and enter the bloodstream, and for people who use CBD to treat convulsions, chronic pain, anxiety or other similar ailments, waiting is not always an option. Experts, however, recommend no more than four puffs for those new to the product, suggesting a gradual start. Vaping also allows discretion when consuming and using CBD in public.
It is important to emphasise that CBD oil for vaping and CBD oil for oral use are completely different products. PG and VG are inedible and should not be ingested, while MCT/Hemp oil are not vapeable and should not be put into vaporisers because they spoil them.
CBD vaping: health benefits
The hemp industry has seen tremendous growth in recent years due to the many health benefits of CBD. Many studies and testimonials report how this substance alleviates all kinds of mental and physical health conditions, including:
anxiety
insomnia
pain
inflammation
epilepsy
People suffering from certain respiratory diseases often use aerosol therapies to inhale and quickly get CBD into the lungs, which results in a rapid clinical effect.
The characteristics of condensation aerosols may make vaping seem a more effective method of taking CBD. However, as vaping is still a relatively new practice, researchers are not yet sure about its real benefits or possible health risks. Further studies on vaping CBD oil are lacking, as clinical trials on CBD intake have focused on oral capsules, sublingual sprays or oral solutions.
CBD vaping oil, as mentioned, has a faster absorption rate than other forms of CBD, such as edibles and oils. This is because CBD reaches the bloodstream through the lungs instead of having to pass through the digestive system. It is normal for the medicinal effects of CBD vape oil to be felt immediately or within a few minutes. The rapid absorption rate makes vape oil a favourable solution for those suffering from anxiety attacks, short-term stress and pain flare-ups.
Many people consume CBD exclusively for the relaxation benefits. One could argue that vaping is perhaps the most relaxing way to take CBD, as it produces soft, pleasant clouds that gently penetrate the breath and lungs to promote calm. CBD vape oil is often enriched with delicious aromas, making the taste and smell very pleasant.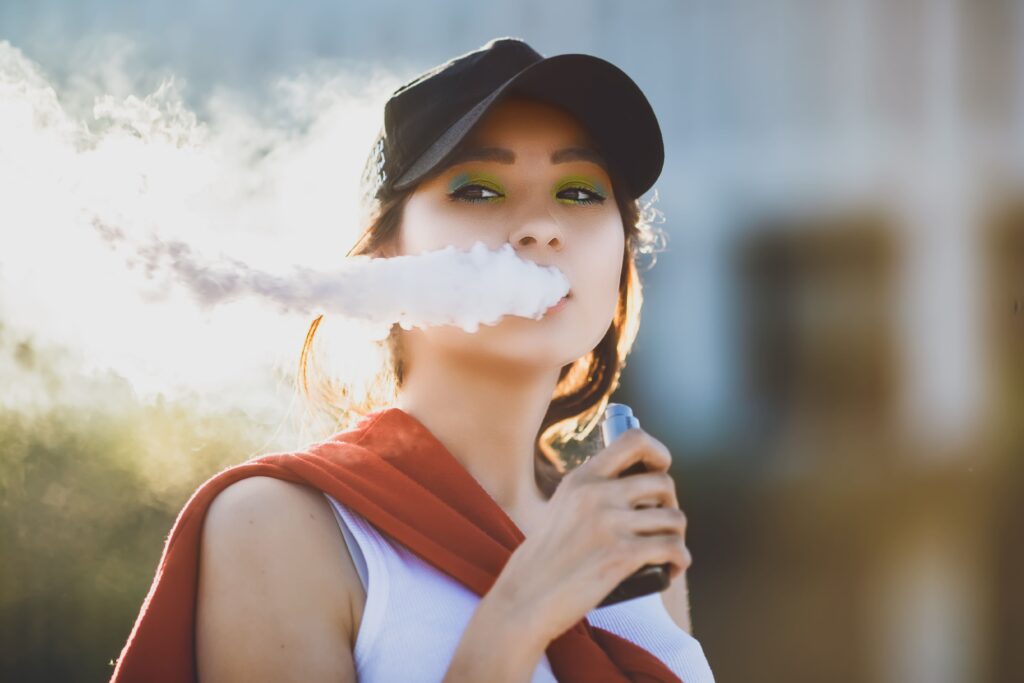 Risks of CBD vaping
In the US, CBD extracted from the Cannabis sativa plant has not yet been approved by the FDA as a medicine. Moreover, the FDA does not regulate the production and labelling of CBD oil products. One study warns consumers about the fraudulent nature of some manufacturers: not all products contain the amount of CBD suggested on the label. Without quality control, people are exposed to unknown doses of CBD, as well as other components that may pose risks. In Europe, the situation is similar. There are no real controls on CBD levels within the products.
In a recent publication, doctors reported several cases of severe lung injuries in people who vape. According to a CDC report, as of February 2020, 2,807 people in the US received hospital treatment for electronic cigarettes, or vaping, resulting in lung damage associated with the use of the product. This new disease is called EVALI, or vaping disease. Of these people, 68 have died. Nevertheless, smoking vaping is still much safer than smoking joints/cigarettes, which are responsible for 400,000 deaths a year in the USA.
A small percentage of users have also experienced allergies or subsequently develop allergies to some of the chemicals and materials used in vapers. Some studies have found negligible amounts of metal particulates and other hazardous contaminants, such as lead and cadmium. Those who develop or experience allergies or intolerances will notice sinus irritation, nausea or headaches upon consumption. More severe allergies may manifest as hives, swelling or difficulty breathing. Fortunately, both chemicals are already strongly present on the market and in other products that many people are already aware of allergies.
In fact, propylene glycol and vegetable glycerine are common ingredients in the vapour of smoke machines, cosmetics, hair products, food, drinks, cigarettes, medicines and many other products.
Tips on vaping
Not all vaping devices are the same, but they all have four basic components: a battery, a heating element (also known as an atomizer), a mouthpiece and a chamber to contain the vaping material. The heating element vapes whatever material it comes into contact with inside the chamber and the user inhales the vapour through the mouthpiece. There are two distinct styles of vaporisers for vaping CBD. The most common vaping style is a 'tank-style' vape, in which a battery heats a small disposable cartridge or refillable container. The other type is a pen vape, typically used for concentrates such as CBD isolate. Pen vaporisers facilitate the vaping of concentrates. It consists of a chamber with a metal heating coil at the bottom that vaporises the concentrated CBD isolate placed directly on the coils.
Experts have drawn up a guide of advice if you want to approach this new type of CBD oil intake:
do not use electronic cigarettes containing THC or vaping products from unreliable sources
do not use e-cigarettes or vape products that contain vitamin E acetate
do not add additional ingredients to a vape product
Vape products and e-cigarettes are also not safe for adolescents, young adults or anyone who is pregnant.
Want to know more? Try our products for a quality experience.