Table of Contents
CBD is everywhere, and we are discovering its wonderful properties more and more, with studies and research. You can find CBD in oil form, you can eat it, drink it, smoke it, spread it on your skin.
CBD can help in the sexual sphere, with anxiety and depression, with insomnia and a big variety of sleep disturbs, with chronic pain, joint pain, endometriosis. It can also help with seizures, psychosis, heart problems, anti-oxidation and anti-inflammation. In this article, we will talk about fibromyalgia and CBD, starting as always from the basis. If you want to discover more about CBD, read our blog!
What is CBD
You can find CBD (cannabidiol) in the cannabis sativa plant, along with THC and other chemicals.
CBD is not psychoactive, it does not cause the high associated with traditional marijuana use and it's not addictive in any way. Its side effects can also be very manageable. CBD is legal, even if, for example in Italy, the legislation is very lacking and imprecise. So, nothing is stopping you from buying some CBD products to understand first hand its good and medical properties. Just remember to talk to your doctor first and to start small with the dosage.
CBD: how does it work?
CBD works on the body and on the brain interacting with the endocannabinoid system (ECS). The ECS is a recently discovered system of receptors in our brain and body that regulates and controls many body functions, from memory and learning to emotional processing, pain and temperature control, sleep, inflammatory response and eating.
It's easy to understand why the ECS is currently at the center of renewed international research and drug development, and why it's important to know that CBD interacts with it. The chemistry and pharmacology of CBD, as well as cannabinoid receptors and other components of the endocannabinoid system with which it interacts are being studied as we speak.
In addition, preclinical and clinical studies have contributed to our understanding of the therapeutic potential of CBD for many diseases, including inflammatory response and fibromialgy.
What is fibromyalgia?
Fibromyalgia (FM) or fibromyalgia syndrome (FMS) is a complex musculoskeletal disorder more common in women than in men. It is characterized by widespread pain that can present as sharp and dull in ache with amplified pain sensations.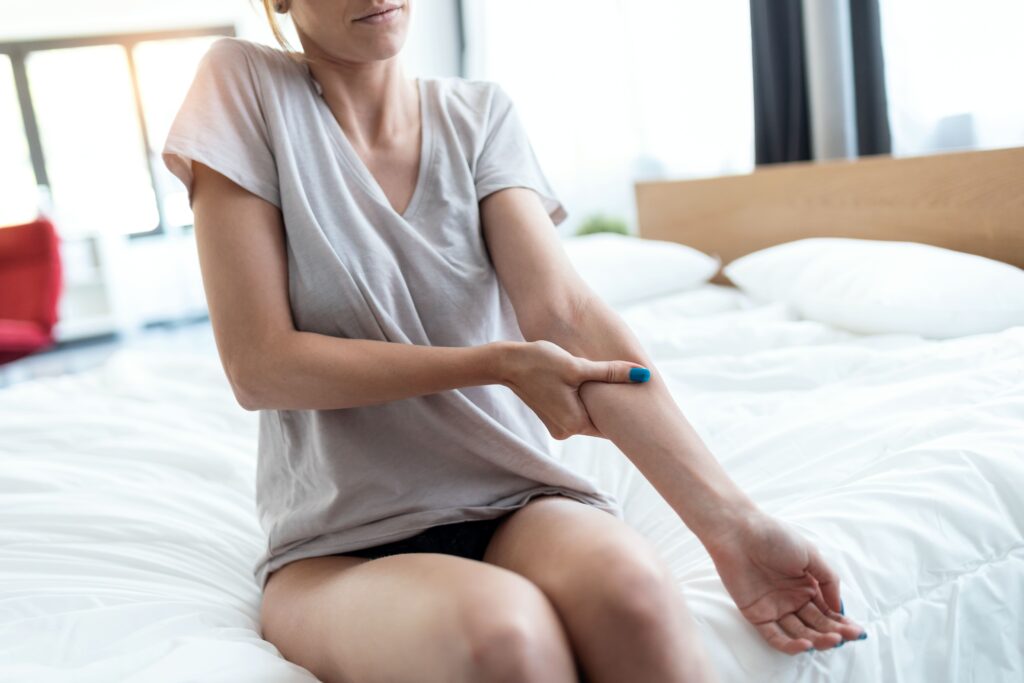 Fibromyalgia symptoms can also include chronic fatigue, sleep disturbances, issues with memory, and mood irregularities. Research suggests the nervous system is involved in causing fibromyalgia, but this disease in not an autoimmune one or an inflammatory conditions and its origins are not clear.
Fibromyalgia tends to run in families, and some scientists believe that certain genes could make you more likely to develop it. However, the disorder also occurs in people with no family history of the disorder. There is no specific test to detect it, and at the moment there is no cure.
Medications and lifestyle changes, combined with self care, exercises and getting enough sleep can help patients to manage the symptoms and to feel better.
Can CBD help with fibromyalgia?
The short answer is: maybe, but we need more studies. As we all know, CBD is already used by a lot of people all over the world for chronic pain and inflammation. There are currently no published studies on fibromyalgia that look at the effects of CBD on its own. However, some research does look at the effects of cannabis, which may contain multiple cannabinoids, on fibromyalgia.
For example, a research from 2009 established that CBD can be used to relieve neuropathic pain and so its a good addiction to other pain medications. In 2011, a study was conducted on 56 people with fibromyalgia. The participants used cannabis to treat their symptoms. Half of them, the ones with experience in using cannabis, experienced reduced pain and stiffness and an increase in sleepiness.
A new study from September 2020, established that "Evidence supporting cannabis in chronic pain conditions is plentiful; however, in fibromyalgia, they are mostly limited. Only a handful of randomized trials exist, and their objectivity has been questioned. However, many retrospective trials and patient surveys suggest the significant alleviation of pain, improvement in sleep, and abatement of associated symptoms.
Evidence supporting the use of cannabis in chronic pain and specifically in fibromyalgia is being gathered as the use of cannabis increases with current global trends. While the current evidence is still limited, emerging data do suggest a positive effect of cannabis in fibromyalgia. Cannabis use is not without risks, including psychiatric, cognitive, and developmental as well as the risks of addiction. As such, clinical judgment is warranted to weigh these risks and prescribe to patients who are more likely to benefit from this treatment.
Further research is required to define appropriate patient selection and treatment regimens". Once again, the results focus on cannabis in general and not on CBD, and the decision is deferred to the evaluation of the individual doctor, in the absence of general data.
In conclusion, the results have been mixed and more studies on CBD specifically are needed.
Conclusions and warnings
If you are interested in using CBD, talk with your doctor first. CBD comes in many different strengths and it may interact with your existing medications and supplements, so it's important to keep your doctor informed at all times. As for the dosages, start small and always listen to your body and your mind.