Sleep problems are varied and depend on many variables. It's impossible to provide an adequate and complete case study here. What is certain, however, is that after the Covid-19 pandemic many of our habits have changed, maybe for the worst. Those related to sleep, for example. You sleep badly, sleep little, wake up tired and in a bad mood, suffer from insomnia, have bad dreams and have great difficulty falling asleep but also waking up the next morning.
CBD has been proven to help with a great deal of these problems. But what if we combine it with another substance that helps with sleep problems like melatonin? In this article, we at hempati.com will explain everything you need to know about these two substances, separately and together, and how they can help you. Will they suit you? Let's find out together.
What is CBD?
CBD, also known as cannabidiol, is a product of the cannabis sativa plant. Unlike THC, another component of the same plant, it has no psychotropic effects. On the contrary, it has numerous therapeutic properties. It interacts with the receptors of the endocannabinoid system found in our body, and is useful against anxiety, against depression, helps relaxation, acts on various sleep disorders, chronic pain and muscle tension. Some suggest that it is also useful for various sexual disorders and difficulties. The market is filled with CBD products: there is something for all tastes, from traditional flowers to oils, creams, ointments, gums and candies.
Its properties against sleep disorders are particularly important, from insomnia to nocturnal awakenings. As always, we suggest you speak to your doctor before embarking on a CBD journey for any of these ailments or discomforts. In fact, CBD could interact with some drugs. As for dosages, in general, start low and watch your body and your reactions. CBD is a great ally for your mental and physical health, if you know how to use it! 
What is Melatonin?
There are now many melatonin-based products on the market. Drops, pills, even gummies and candies. Previously used mainly to reduce the effects of jet lag, this supplement is now used by a great number of people to fall asleep more easily and to enjoy a better quality of sleep.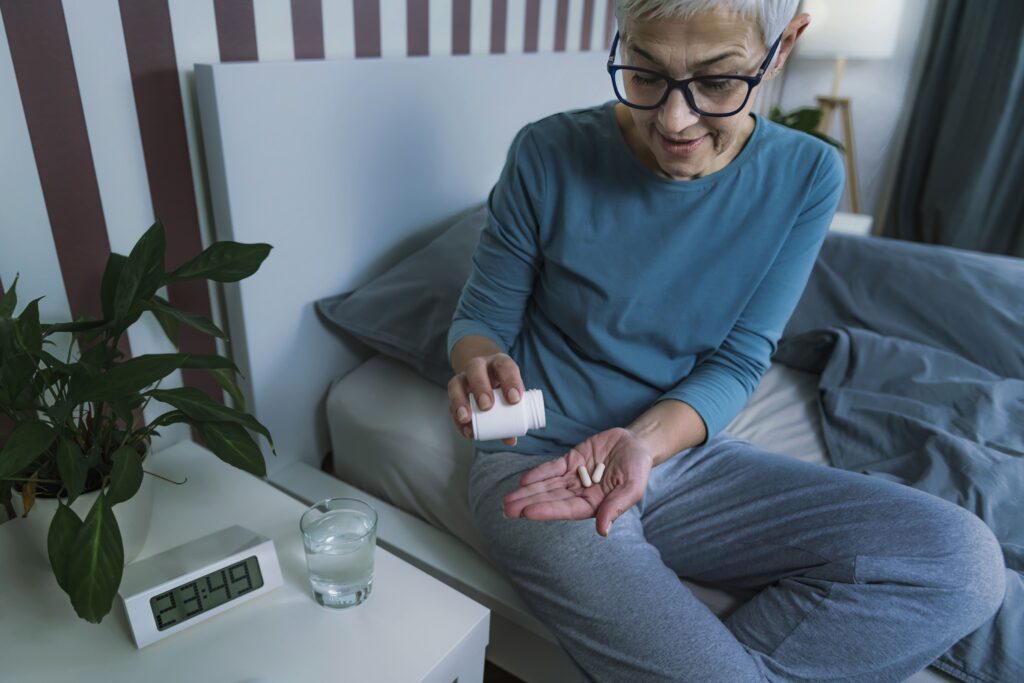 But what is melatonin? Melatonin is an endogenous hormone produced by our body which is essential in regulating the sleep-wake cycle. Specifically, it is produced in our brain and biochemically it is synthesized from tryptophan acid, the precursor of serotonin (the so-called happiness hormone). To be produced, however, it needs several pre-existing conditions, like all hormones. Among these conditions, the most important one is the dark. The production of melatonin, in fact, occurs at night. With the arrival of light the production stops to wake us up and to keep us awake throughout the day.
This detail is essential to understand where a possible lack of melatonin in our body could come from: a light is enough to alter its production.
Not only that: the production of melatonin decreases with increasing age and is influenced by hormonal problems. It is mainly produced in winter and is produced in smaller percentages in summer. That is why it is taken in supplement form, because it can be altered by a number of factors. One last curiosity: melatonin is also found in foods such as rice, grapes, bananas, cherries. The percentage contained in foods, however, is very low and would not be enough to cover any deficiencies.
What does melatonin do and how can it help?
Melatonin supplements are used in the treatment of various sleep disorders such as nocturnal awakenings, insomnia, REM sleep disorder. Going into even more detail, melatonin can help in regulating or restoring the sleep-wake cycle, decreasing the time needed to fall asleep, improving sleep quality (reducing night-time awakenings and making us feel more rested the next morning), to help those who work shifts and therefore are unable to regulate their sleep, to counteract the effects of jet-lag, to stimulate the immune system. On top of that, it is also an antioxidant hormone. It is not addictive. It can be used temporarily and extemporaneously or taken daily. Although it is recommended to be used in adults, it is also prescribed by pediatricians, naturally with lower dosages.
As always, talk to your doctor before taking melatonin on an ongoing basis. Pay attention to the doses. For an adult of normal weight and in good health, it is advisable not to exceed the consumption of 1mg of melatonin per day. Pay attention to your reactions and trust your body. The same goes, of course, for CBD.
What happens if I don't sleep?
But what if we can't rest? What if we wake up during the night? Sleep disorders are sneaky: in the long run, they can cause serious damage, which goes beyond the immediate feeling of tiredness.
In fact, if the body lacks night rest, the following could occur: exhaustion, concentration problems (and consequently drop in performance at school or at work), more or less serious vision problems, chronic headaches, muscle disorders, and sudden changes in humor. It's easy to see how all of these things have a major effect on the quality of our daily lives. Unfortunately, there is even worse. In fact, it has been demonstrated that poor quality sleep, for various reasons and at different levels, could cause unpleasant weight fluctuations or affect one's diet, and consequently cause conditions such as obesity or malnutrition, and heart and cardiovascular diseases.
Can I take CBD and melatonin together to fight them?
There are many ways to act on these sleep problems, lighter or heavier solutions, less invasive or more invasive things. There are those who need nothing more than a good herbal tea. A good idea would also be not to look at backlit screens (smartphones, tablets, computers, e-readers) for at least 40 minutes before going to bed, leading a healthy life, training or in any case doing any type of physical activity, eating well without exaggerating. Sometimes, however, all these things are not enough, and one has to act with external substances. Even between these substances there is a difference. There are valerian, melatonin, CBD (we would like to recommend our SPECIAL OIL: SLEEP), which are mainly supplements, and then there are the actual medicines and drugs. The latter, however, could be heavy, and they tend to have side effects and cause addiction.
CBD and melatonin, from this point of view, could be a solution. They are absolutely combinable, indeed there are products on the market that contain both of these substances, and allow for a serene and relaxed rest, enhancing and helping each other without big collateral effects and without causing dependence.
Now you know everything, you are ready for a wonderful night of sleep!