There are many success stories about CBD administered to dogs, especially in the United States and in Australia. Sure, it's a delicate matter and the research seems largely anecdotal. In fact, the substance could be metabolized by the body of our furry friends in a different way from how ours bodies would metabolize it, with a whole series of precautions to keep in mind. In this article, you'll find out everything you need to know about CBD and dogs, including dosages. We at hempati.com are here to answer all your questions and concerns.
CBD to dogs: is it harmful?
The first question to ask yourself, even before taking into consideration variables such as conditions, typologies and dosages, is one and only one: can CBD be harmful to dogs? The answer is no.
Unlike THC, the other substance contained in cannabis, the one that, to be clear, causes a real high, CBD or cannabidiol does not cause harm to the animal. THC is toxic and can lead to death. CBD, on the other hand, if dosed incorrectly, can cause diarrhea or some variation in our Fido's liver values ​​after a few weeks of wrong dosage. We're not saying it doesn't take some attention and control, but it shouldn't be a matter of life and death, thankfully.
The main concern when we talk about CBD and dogs is that this substance inhibits a chemical compound in the body called cytochrome P450 which is responsible for the metabolization of many medicines and drugs. If the effectiveness of a substance depends on the product of its metabolization process, CBD can cause problems with the metabolization of the medicine and create a build-up of it that could ultimately be toxic. Obviously, and we say it here but we will repeat it several times, never administer CBD to your dog without first asking your vet and make sure there are no other drugs necessary for his health and survival metabolised by cytochrome P450. The two substances could interfere in a negative way (it can interfere also in humans!).
What does the research says?
As you can well imagine, scientific research on CBD and dogs is still somewhat lacking at the moment. However, the body of research is expanding and already includes around 23,000 published papers on the subject. These are mainly research conducted in the laboratory that observe the effects of CBD on animals and humans. The results seem encouraging, especially as regards pain (with a particular focus on bone pain and pain caused by arthritis), itching and irritation, anxiety. All these disorders as well as in research on humans have also been included in dog-related research. Hurray!
What ailments does CBD help with in dogs?
But when is it time to embark on this adventure and consider giving CBD to your dog? There are two groups of ailments that CBD appears to alleviate, physical and behavioral.
Physical ailments
Let's start with the physical ones: several studies have observed the effect and effectiveness of CBD on pain caused by arthritis, and they are all coming to the same conclusion: CBD is very effective. A study by the Cornell University Department of Veterinary Medicine found that giving dogs a dose of 4.4 mg of CBD per pound of dog weight 2 times a day for one month caused a significant improvement in pain and quality of life for dogs. Baylor University also agrees. Itching and Irritation: two recent studies have established that CBD also helps with itches, irritations, and skin conditions.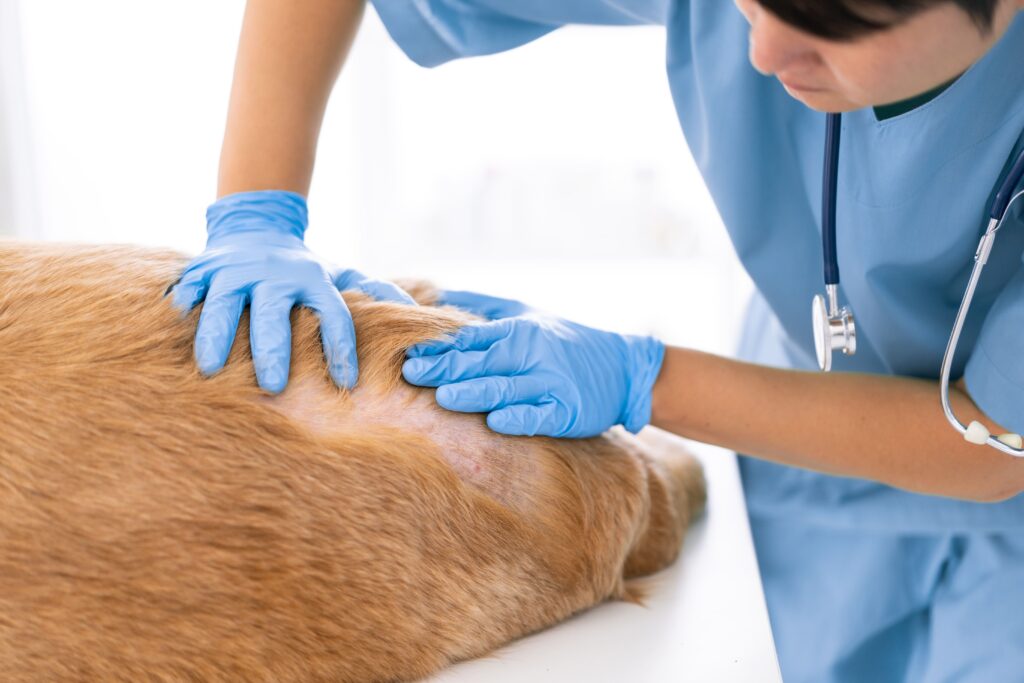 Behavioral disorders
Let's now move on to behavioral disorders: anxiety, strong reactions to noises and the like are often the main reasons why owners start thinking about treating their dogs with CBD. However, this field, even if it does not seem so and even if intuition suggests otherwise, is not yet well documented. There are no studies that have demonstrated the effectiveness of CBD on dog behavioral disorders related to the sphere of anxiety and reactivity. However, studies are being carried out on the effect of the substance on aggression, and they look very promising.
Dogs in kennels with aggressive tendencies were shown to be less violent towards humans after a 15-day period of CBD treatment. To conclude: the results are still few and too inconsistent in the very first studies on CBD used in dogs to decrease the possibility of seizures. So, to recap: there aren't enough studies on anxiety and loud reactions to noise but the research looks daunting. Studies are encouraging instead with regard to aggression. Judgment suspended for seizures. As always, talk to your vet. All clear? Let's continue!
How to choose the right CBD for my dog?
The market for CBD products has exploded, and trying to figure out which product is right for your furry friend can be overwhelming and complicated. As usual, look at certified products, investigate the quality and reliability of the seller (we have a little advice for you ;)) and inform yourself well before proceeding with the purchase. Ideally, your product should be free of heavy metals and pesticides. As for edible products, such as gummies or cookies, completely avoid those designed and formulated for humans. Likewise, stay away from THC which, as mentioned above, is toxic to dogs.
As for the type of product, the question becomes more nuanced: your dog's happiness and health come first, and only you (and the vet) can know what it can take and in what form. Pills and oils could be the best solution, while we of course feel like excluding smoking (however, if you want to keep your best friend company, you can choose a flower for yourself).
And the dosage?
Treat your dog as you would yourself. As for the dosage, start slowly, perhaps between 0.2 mg and 0.3 mg per kilogram, taken orally twice a day. Then you can think about increasing, but it's not mandatory. Observe your dog, his behaviors and his reactions, and go from there. Good luck to both of you!