Table of Contents
Introduction
Nothing gets you in perfect spirit quite like a CBD-spiked drink or meal. But is it fair if you're getting all the nutritional benefits of CBD, yet your cat, doggo, or hamster isn't? No. We don't deserve our pets for all the love they give us, but we can do plenty to make them comfortable.
All pets deserve CBD for exotic pets that are just as beneficial as ours. Extracts, refined, and cooked specifically for their tummies, this CBD for exotic pets can help your pet thrive. So, if you are considering an all-natural solution to improving your exotic pet's health, keep reading! 
Is cbd also good for pets? You can find out all the beneficial effects of cbd for dogs, cats, horses, birds, and rabbits at these links!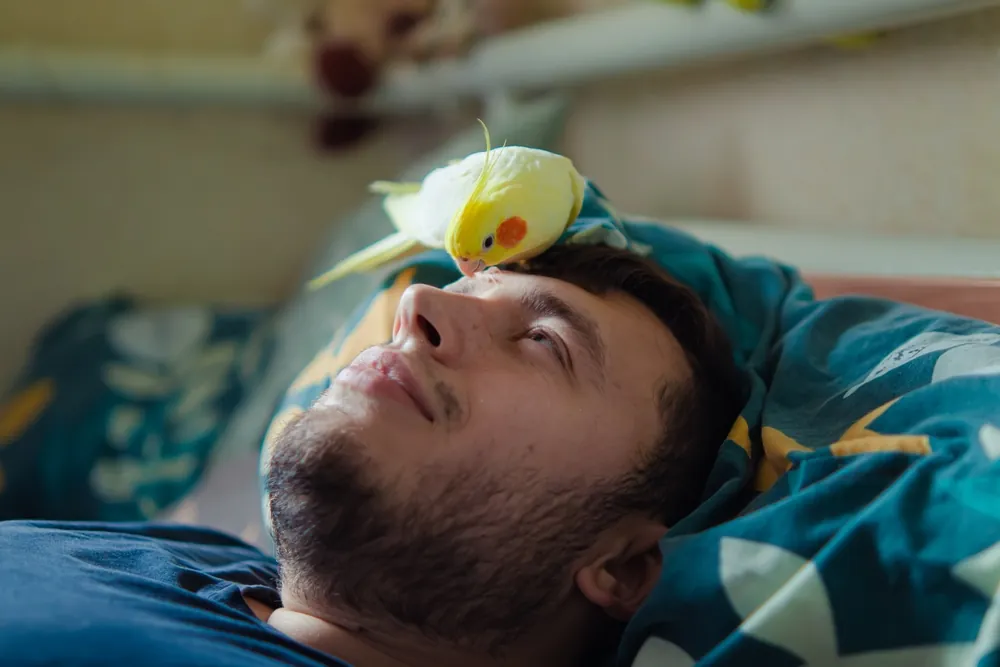 Giving Exotic Pets CBD?
Cannabis isn't toxic to furry, scaly, or feathered friends. However, not all its compounds are good for them. Like humans, pets can benefit from CBD and its many therapeutic properties. That being said, as a pet lover and owner of exotic animals, it's important to proceed with caution and consult a veterinarian who is experienced with exotic animals.
The vet can help you understand whether CBD is appropriate for your pet's specific species and health condition and point you to high-quality, reputable CBD products. Besides, there are many ways to incorporate CBD into your pet's diet. Keep in mind that exotic pets can have varying sensitivities to substances.
Keep a close eye on your pet's response carefully for any signs of adverse reactions or side effects after administering CBD. Symptoms can range from mild tummy upset to serious illness requiring hospitalization. Yes, the potential benefits of CBD have been studied, but its use in animals is still an emerging area of research.
Understanding the Benefits of CBD for Exotic Pets
If you're constantly feeding your pet unnatural substances, there's a chance you can shorten its life by a year or more. Yes. You read that right. It is true for pets as much as it is for humans. Now what? CBD. It has numerous potential benefits for exotic pets, including providing relief from pain and inflammation. 
You have read about the benefits of CBD a million times, but I bet you have never considered what it can do for exotic pets, such as reptiles and birds. For starters, these animals are usually prone to certain health conditions that can cause discomfort. CBD is a neutral remedy that can help alleviate their symptoms and improve their overall well-being.
You would have seen this one coming: CBD for exotic pets has also shown promise in reducing anxiety and stress in exotic pets like humans. Exotic pets are more sensitive to changes in their environment. That's a recipe for anxious behaviour. Only a natural remedy can help them feel more relaxed and calmer while making their lives more enjoyable.
CBD for Exotic Pets: A Natural Alternative to Traditional Medications
Just as people worldwide rely on herbal medicines to treat illnesses, so do pets. However, their applications tend to be very limited, and many of their supposed benefits lack strong scientific evidence. Keep in mind that, like modern medicine, herbal remedies may interact negatively with the consumer.
With exotic pets, CBD can be used as a complementary therapy alongside conventional treatments. Walking at a brisk pace can count for a good dose of cardio! Getting CBD for exotic pets boosts their moods, helping them feel calmer, less stressed, and happier overall.
CBD for exotic pets promotes sleep, improves memory, relieves pain, and uplifts mood. It has been proven to have anticonvulsant, antioxidant, anti-inflammatory, and antimicrobial properties. The difference between CBD products for exotic pets and other pet supplements is subtle. Both are made through somewhat similar methods.
Consuming CBD every day keeps our bowel movements regular and improves your pet's body's flora. It can enhance the effectiveness of medications or reduce the dosage required, minimizing the potential for adverse reactions. CBD for exotic pets is perfect for animals with chronic conditions or undergoing certain medical procedures. 
Common exotic pet conditions treated with CBD
Well, believe it or not, there are a number of ailments that affect exotic pets. One of the most common ailments is arthritis. The thing with arthritis is that it can affect animals of all ages. Pet owners who have tried CBD for arthritis report noticeable pain relief, sleep improvement, and anxiety reduction.
CBD for exotic pets interacts with the endocannabinoid system in the body, which regulates various physiological processes, including inflammation. These anti-inflammatory properties can help reduce joint pain and stiffness. It interacts with CB2 receptors, and it may influence the immune response, potentially reducing inflammation.
While CBD is not a cure, digestive issues, such as irritable bowel syndrome, which is prevalent in exotic pets. And as we've already learned, CBD can help with that. CBD for exotic pets can help regulate bowel movements. It's an encouraging sign that the cannabinoid may reduce inflammation in the gastrointestinal tract, improving digestion and overall gut health.
Furthermore, CBD is similarly effective to other anti-epileptic medications that we commonly use. It effectively manages seizures in exotic pets like reptiles and small mammals. It can help reduce the frequency and intensity of seizures, improving the quality of life for these animals.
How to administer CBD to exotic pets?
One thing about exotic pets, or any kind of pet for that matter, is that they don't usually like you sticking a dropper under their tongue. Good luck getting them to hold still for it. If you are super unlucky, they'll use the teeth to communicate just how unwilling they are to cooperate.
So, you are going to need some special kind of charm to administer CBD to exotic pets. There are so many ways to get this done, depending on the animal and its preferences. The most common method is to mix CBD oil with their food or treats. It works like a charm every time. 
Let's start with the most popular one – Oil tinctures. These are easy to administer and offer a combination of carrier oils and active ingredients. Try CBD salmon-flavour pet oil from hempati! Or if you want something even fancier, you can try beef-flavored CBD oil. Pets will love it!
That's because it makes absorption easy and ensures the animal receives the correct dosage. Now hang on! This method is also the least efficient at getting that cannabinoid dose into the bloodstream. For pets that are more difficult to handle, such as birds or reptiles, CBD can be applied topically.
They're much less likely to fight it (as long as you remember to be gentle), and they'll get a more useful dose than if you drip it into their food. CBD-infused creams and balms can be gently massaged onto the affected area. It's best to consult with a veterinarian experienced in CBD use to determine the appropriate method.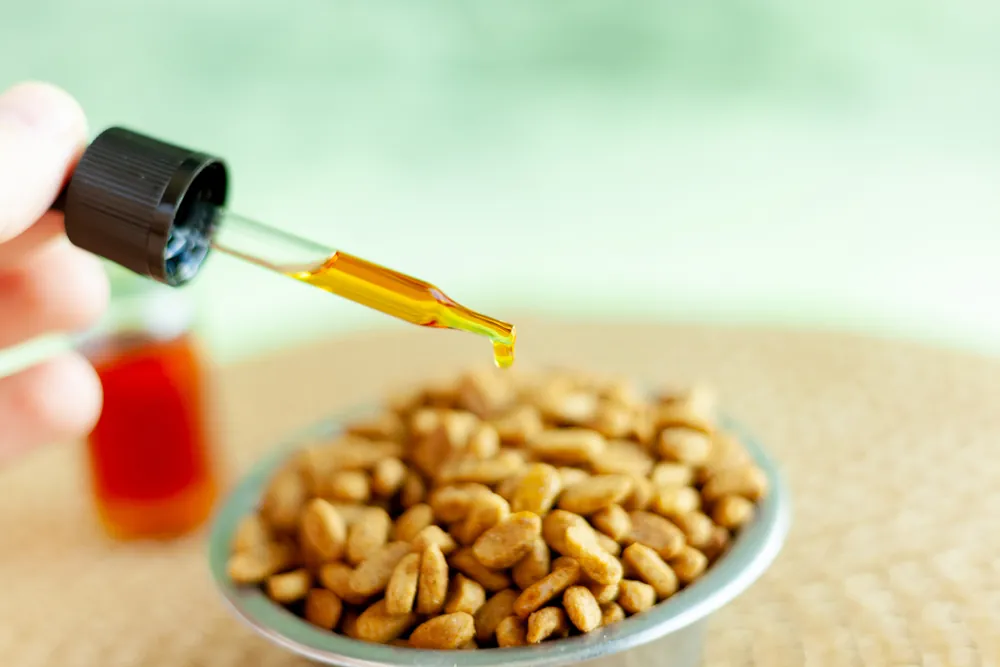 Choosing the right CBD products for your exotic pets
Before you start using CBD for your exotic pet, consult with a veterinarian who specializes in exotic species. Choosing CBD products for your exotic pets is about looking for quality products. Selecting the right CBD products is a crucial step in ensuring their safety and effectiveness.
Full-spectrum CBD contains terpenes found in the cannabis plant, while the isolate is pure CBD. Depending on your pet's needs, either option may be suitable. You want to go for products that have undergone third-party testing to verify their purity, potency, and safety. This testing helps ensure the product is free from contaminants.
There is not enough evidence to say that organic foods are more or less nutritious than non-organic foods. CBD products are made from organic, non-GMO hemp to reduce the risk of exposure to pesticides and other harmful chemicals. Keep off products that contain additives or artificial flavours.
The most important factor to consider is whether the product would be most suitable for your exotic pet. CBD oil is a popular choice due to its versatility and ease of administration. It goes without saying that CBD treats and capsules may be more convenient for certain animals.
Safety considerations when using CBD for exotic pets
No food or drink is inert. It's essential to take some safety considerations into account. Cannabinoid products should be handled carefully and stored in the refrigerator until it is ready to be served to prevent contamination. Even better, have a separate section in your refrigerator for your pet food. Always ensure it is stored at the recommended temperature.
Just like people, pets have individual reactions to supplements. Progress is key. Start with a low dosage and gradually increase it. Do this progressively over seven to ten days. This progress allows you to assess your pet's response to CBD and minimize the risk of any adverse effects.
Secondly, be cautious of administering CBD to your pet while under medications. Pets with health problems, particularly serious ones, and are under medication run the risk of having an adverse reaction to trying new pet products the more they use them. Cannabinoids can interact unfavourably with certain drugs, potentially affecting their efficacy.
As a general rule of thumb, you should always consult a veterinarian to ensure that CBD is safe to use alongside any existing medications. Keep your veterinarian up-to-date on all the pet medications that you are currently giving. If your pet's health turns for the worse while taking CBD and a cause can't be immediately identified, drug interaction might be a possible culprit.
Lastly, it's extremely important to keep pet medications stored in a secure location that's out of reach of pets, and for that matter, children too. Spilled CBD is no match for a hungry pet's taste buds. CBD can lead to digestive upset. Keep the products securely sealed and out of sight to prevent any accidental ingestion.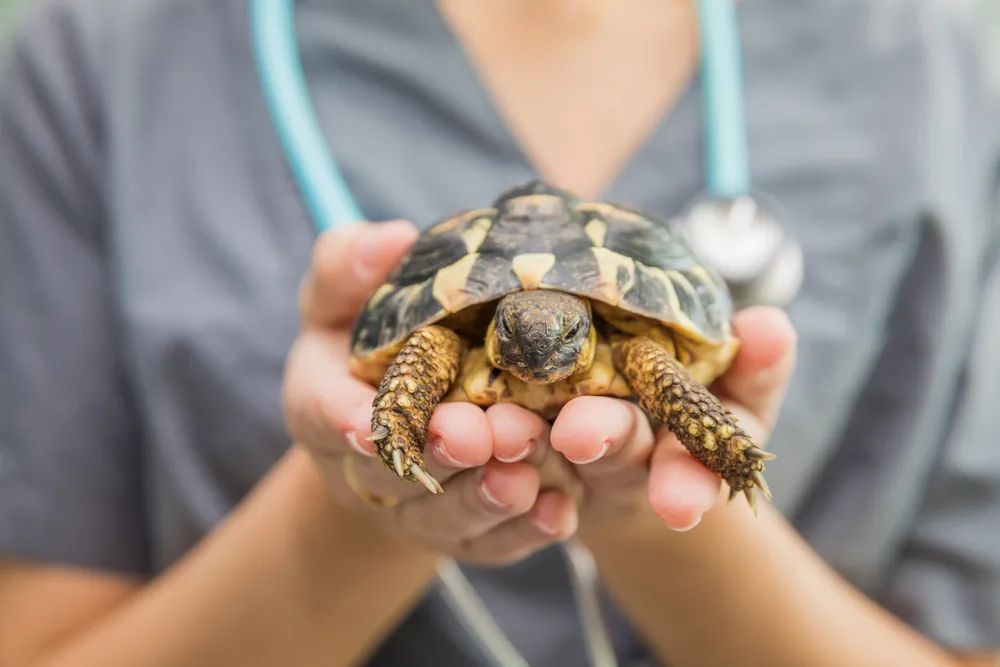 Success stories: Real-life examples of CBD improving the lives of exotic pets
CBD is one of the most popular dietary supplements purchased by pet owners for their pets. It has many health benefits, but only if it's the right formulation, produced by a reputable company, and administered at the correct dose. CBD has already positively impacted the lives of many exotic pets.
Take Coco, for instance, a green iguana suffering from chronic joint pain. After adding CBD oil to Coco's daily routine, her own notices mobility improved significantly, and she became more active and playful.
Another success story is Felix, a feral parrot struggling with anxiety and feather-plucking, who was also treated to some CBD. It helped calm Felix's nerves and reduced his anxiety levels. The CBD treatment helped prevent further self-destructive behaviour.
These are only two of the many real-life success stories that demonstrate the potential of CBD in enhancing the well-being of exotic pets.
Conclusion: Embracing the power of CBD for Exotic Pets
CBD has shown great promise in addressing conditions from pain relief to anxiety reduction, along with many other potential benefits. Besides, there are no harsh side effects of traditional medications. It goes without saying: Start slow and always consult with a veterinarian before administering CBD for exotic pets.