We already know that CBD, or cannabidiol, a natural compound found in the cannabis or hemp plant, can be really useful for a number of reasons, like chronic pain, anxiety, insomnia, muscle relaxation and so on. 
Increasingly more people are wondering whether cbd for depression is also helpful.  As we all know, depression is a really serious and complicated illness, influenced by a number of other conditions and situations. We will talk about it in a serious and nuanced way, giving you some suggestions but always remembering that you have to talk to your doctor first. Let's begin!
Can CBD be a solution against depression?
In recent years CBD has seen a surge in popularity, and new researches are exploring its potential health benefits. Some of these researches suggests that CBD products in general may be beneficial for those who suffer from depression and depression symptoms.
The research is limited, but promising. Most of the studies were done using animals. Still, CBD appears to have some benefits, especially if you are dealing with anxiety, cognitive impairment, discomfort before public speaking, chronic pain. All these conditions can be related to depression. 
But how does it work?
Low serotonin levels are connected to depression. Experts believe that CBD can work on serotonin receptors in the brain, affecting how the brain's chemical receptors respond to the serotonin that's already in the system. It doesn't necessarily boost serotonin levels or create new serotonin, but it might still be very helpful.
Studies from 2014 and 2018 found that CBD's effect on these receptors produced anti-anxiety and anti-depressant effects. Another study concluded that CBD has anti-stress effects, and of course stress is linked to depression. New researches on this topic are published every year: soon we might know so much more about this. A good thing about CBD used as an antidepressant can be its rapidity. Most medications take weeks to start working. CBD, however, it's faster and has fewer side effects. 
Does CBD have side effects?
So far, CBD doesn't appear to cause many side effects. Someone may be more sensitive to it and experience things like diarrhea and stomach problems in general, fatigue, changes in appetite and in weight. At this moment in time, it's hard to know if CBD causes any long-term side effects due to a lack of research. So far, experts haven't identified any major long-term risks.
In a 2017 review, the World Health Organization concluded that CBD is generally safe. They noted that adverse effects may be caused by interactions between CBD and other medications. To minimize your risk of side effects, make sure to talk to your healthcare provider before trying CBD.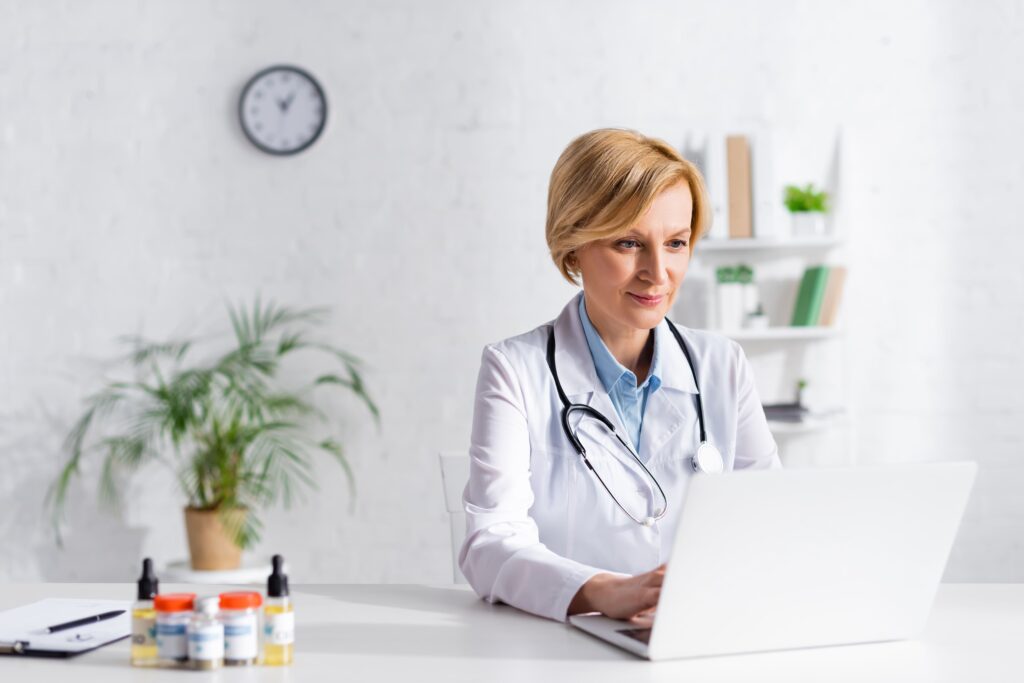 This is important for CBD but in general keep it in mind if you take over-the-counter medications, herbal supplements, and prescription medications (especially those that come with a "grapefruit warning"). Both CBD and grapefruit have an effect on cytochromes P450 (CYPs), a family of enzymes important to drug metabolism.
What kind of CBD product is the best for this use?
CBD is available in four formulations. You can try all of them, and then decide what's the best for you and for your particular condition. The world of CBD products is big and full of variety, there's something for everyone!
You can find CBD in tinctures, capsules, sprays, and oils. These mixes can be taken as they are, or they may be used in other preparations, such as smoothies or a coffee. You can also learn how to make them at home. You can also eat CBD! Drinks and foods, such as CBD-infused gummies, are now widely available on the market. Vaping with CBD oil is one way to quickly ingest the compounds. However, there's some debate over the long-term safety of this method. In addition, it can also cause coughing and throat irritation. If you don't like smoking, maybe this isn't the best way to assume CBD. In the end, you can buy beauty products infused with CBD. We are talking about lotions, gels and creams. These products incorporate CBD into things you apply directly to your skin. However, this formulation is likely best for physical pain, not mental health uses, so it's not the best solution for depression or depression related issues.
One little final warning
While CBD may offer some benefits over antidepressant medications, it isn't a replacement. Never stop taking prescribed medication, especially antidepressants, without talking to your healthcare provider first. Abruptly stopping medication that's been prescribed to you can cause serious side effects. If you want to stop taking medication, work with your healthcare provider to come up with a plan for gradually decreasing your dosage.
Before launching yourself in the CBD world, do a little bit of trial and error with different kinds of products and dosage. Learn to listen to your body and to your mind and understand what is the best combination for both. Good luck!